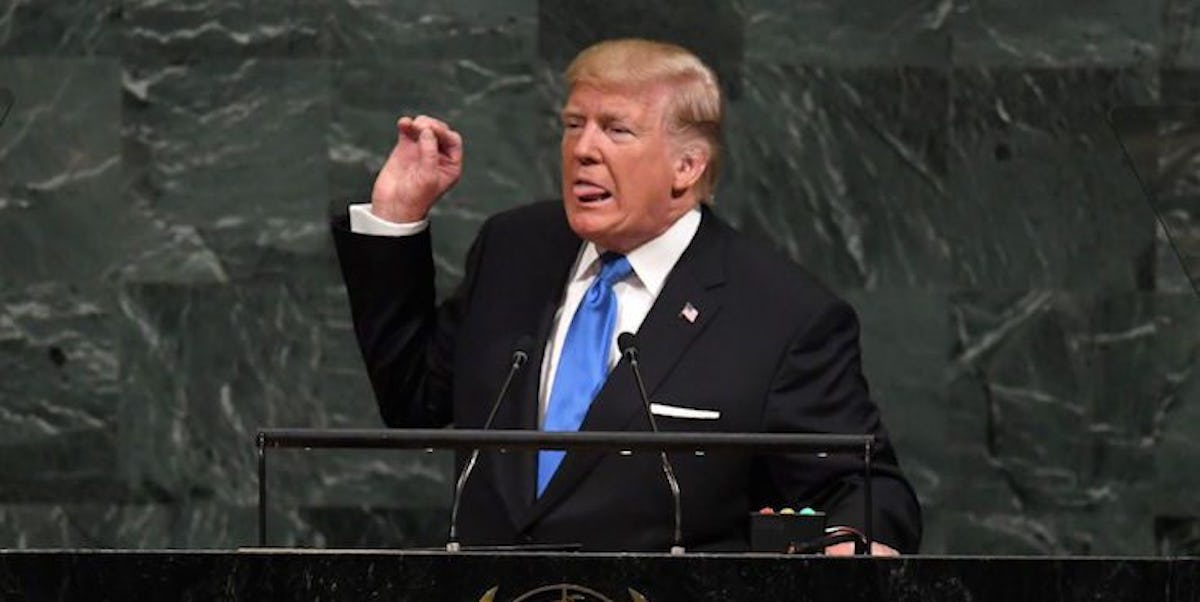 Trump Just Called Kim Jong-Un A Nickname At The UN And Twitter Freaked Out
TIMOTHY A. CLARY/AFP/Getty Images
On Tuesday, Sept. 19, President Donald Trump gave his first major address to the United Nations general assemble in New York City. During that highly-anticipated speech, Trump referred to North Korea's leader, Kim Jong-un, as "Rocket Man," which is apparently his new nickname for the man who could send us into nuclear war. Tweets about Trump calling Jong-un "Rocket Man" show just how uncomfortable many people were with this new moniker the president is apparently sticking with.
This was not the first time President Trump referred to Jong-un as "Rocket Man." In the midst of a typically absurd tweet storm on Sunday, Sept. 17, between retweeting a gif of himself hitting a former Secretary of State and the first female presidential nominee of a major party with a golf ball, Trump tweeted that he spoke with President Moon Jae-in of South Korea and asked him "how Rocket Man is doing." So that's where this whole nickname business for the North Korean leader started, in case you missed it.
Trump has been known to refer to people he doesn't like using nicknames. You know this. Little Marco for Rubio, Lyin' Ted Cruz, Crooked Hillary, Crazy Bernie, and his pretty racist "Pocahontas" name for Elizabeth Warren. Now, Jong-un has joined those storied ranks.
So during Trump's UNGA speech on Tuesday, he decided to again use this "Rocket Man" name.
"We will have no choice but totally destroy North Korea," Trump said about the country's nuclear threats to the United States and other nations. "Rocket Man is on a suicide mission for himself and for his regime."
For real, here's video of it happening:
People who were watching the speech live on Tuesday morning were, uh, pretty shocked that Trump went ahead and do that on stage at the United Nations, of all platforms.
Many people theorized on if "Rocket Man" was in Trump's prewritten speech or if it was something he just threw in for funsies.
Diamond and Silk, longtime Trump supporters, at least seemed to get a kick out of it while everyone else was freaking out.
The nickname "Rocket Man" presumably is derived from the classic 1972 song of the same name.
That song was performed by Elton John and written by the dream team of himself and Bernie Taupin. You can find it on his Honk Château album, or Spotify. The song tells a first-person narrative of an astronaut going into space, considering the implications of it, and thinking about what it all means, fam. It's a great song. Don't @ me.
Trump is apparently an Elton John fan himself. He made that clear throughout his presidential campaign, where he had Elton John's "Tiny Dancer" in heavy rotation on the campaign playlist during his rallies, alongside the Rolling Stones. It got pretty tiring after the first two rallies. Trust me.
Elton John also performed at Trump's third wedding to Melania at his Mar-a-Lago estate in Palm Beach, Florida. Rumors spread that Elton John would play at Trump's presidential inauguration, disseminated widely by none other than Anthony Scaramucci. Those rumors were swiftly shot down.
The Trump-John fandom is not mutual. Elton John performed at a Hillary Clinton fundraiser during the election, for starters. Elton John, who is gay, also has personal reasons to not support Trump given the president's lack of noted support for the LGBTQ+ community. Last July, the recording artist told Mic he has "fear for the world" when it comes to a Trump presidency's ability to combat the global HIV crisis.
And meanwhile, North Korea has been increasing threats to the United States and other nations during Trump's presidency.
Trump has been threatening North Korea with mass destruction for a minute now as president, with tensions high in early August as the leaders threw insults at each other (including, on Trump's side, on Twitter, of course). So Trump going ahead and using a nickname for Jong-un at the United Nations is a decently surprising decision for him to make, considering the potentially catastrophic effects of pushing the leader for millions of people around the globe.
But there you have it, just another day in Trump's America.