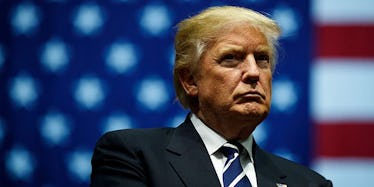 Trump Says U.S. Is Now "Locked And Loaded" In Case Of War With North Korea
Drew Angerer/Getty Images
On Friday, Aug. 11, President Donald Trump threatened to attack North Korea. Capping off a week in which the U.S. itself received threats against the American island territory of Guam, the president took to Twitter to hint at American military plans to respond to the longtime adversary. Trump said,
Military solutions are now fully in place, locked and loaded, should North Korea act unwisely. Hopefully Kim Jong Un will find another path!
Trump's tweet comes just as North Korea itself released a statement on Friday morning through its official state media, according to CNN. The statement read, in part,
Trump is driving the situation on the Korean peninsula to the brink of a nuclear war, making such outcries as "the U.S. will not rule out a war against the DPRK [Democratic People's Republic of Korea]."
The latest round of back and forth statements is part of a long, contentious history between both nations. The U.S. has been at odds with North Korea for over half a century, particularly since the Korean war of the early 1950s. The war saw the U.S. fight alongside South Korea, and ended in a virtual stalemate via armistice in 1953.
Since that time, former U.S. presidents have struggled to halt North Korea's efforts to develop nuclear weapons, most notable during the administrations of Bill Clinton, George Bush, and Barack Obama.
Earlier this week, reports confirmed that North Korea has developed missile-ready nuclear weapons. Meanwhile, North Korea also made specific threats against the U.S. this week, targeting Guam, the American island territory located less than 3,000 miles away from the Korean peninsula.
In response, President Trump has publicly hinted at the idea of nuclear war. On Thursday, the president said of North Korean leader Kim Jong Un,
Let's see what he does with Guam. He does something in Guam, it will be an event the likes of which nobody has seen before.
Trump also said he would like to "de-nuke" the world, essentially stating his preference that no country have nuclear weapons. But the president asserted that as long as nuclear weapons exists, the U.S. will have the strongest arsenal.
Whether or not that arsenal is used against North Korea remains to be seen.