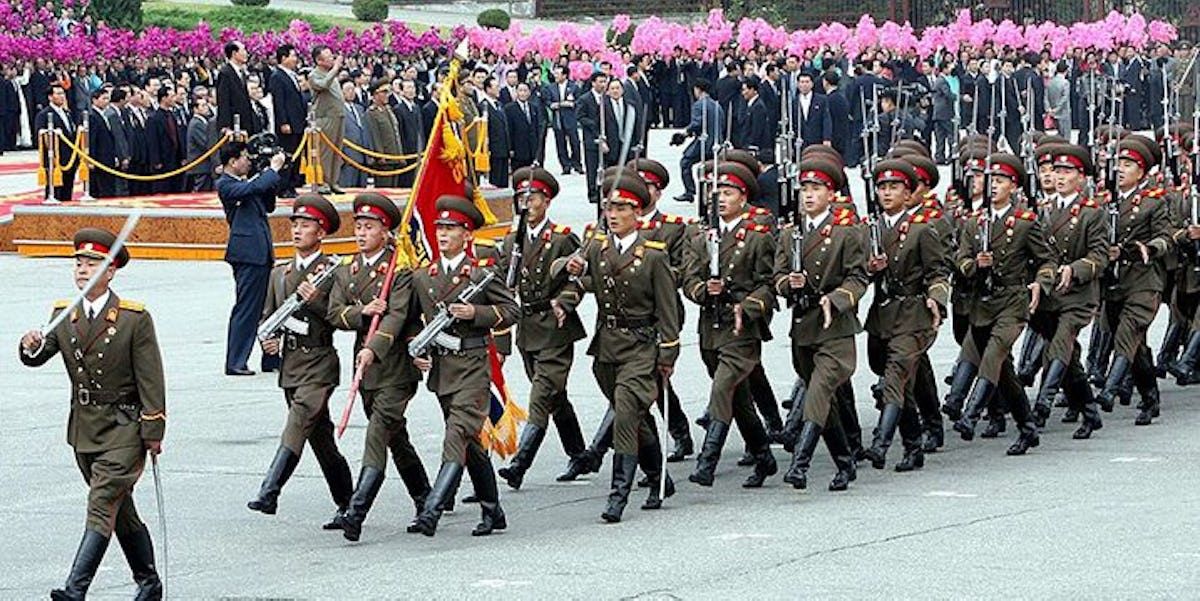 Here's The Type Of Missile North Korea Says It Would Use On Guam
Pool/Getty Images
By now you may already know that North Korea responded to President Donald Trump's threat of "fire and fury." After Trump warned North Korea about making threats against the U.S., the country responded with just that, a threat, specifically against the American island territory of Guam. The response to Trump also included specifics: North Korea has Hwasong-12 missiles that it will decide later this month whether it will launch.
That is the plan revealed by a statement from the country's official news agency, which was reported by Reuters on Wednesday evening, Aug. 10.
The statement went into detail about the number of missiles the North Korean's army says it would be used and how long the missiles would take to strike near Guam, saying,
The Hwasong-12 rockets to be launched by the KPA (Korean People's Army) will cross the sky above Shimane, Hiroshima and Koichi Prefectures of Japan. They will fly 3,356.7 km (2,085.8 miles) for 1,065 seconds and hit the waters 30 to 40 km away from Guam.
The statement also said the plan to strike will be developed by mid-August, at which point North Korean leader Kim Jong Un would decide whether to follow through with an actual attack.
On Thursday, CNN reported on the basics of the weapon, which the network says was first revealed by the North Koreans in April. At the time, the country had been hosting a parade to celebrate the 105th birthday of Kim Il Sung, the grandfather of Kim Jong Un and former leader of the nation.
The Hwasong-12 is an intermediate range ballistic missile (IRBM) that could travel further than 2,300 miles in under 20 minutes, according to analysis by 38North.org, a site operated by The US-Korea Institute at Johns Hopkins University.
Guam is located about 2,131 miles from North Korea, per Google Maps.
Meanwhile, news of North Korea's stated plans comes after U.S. intelligence agencies confirmed to NBC News that North Korea has developed the technology necessary to attach a nuclear weapon on top of one of its long-range missiles, like the Hwasong-12.
That North Korea has issued a threat with specifics is unusual. Still, on the actual island itself, some in Guam aren't yet overly concerned.
Monique Genereux, the owner of a bar and restuarant in Guam, told NPR,
I've had a couple customers say that if it happens and we find out we have 10 minutes left, we're gonna come down here and have some drinks with you guys!
Hopefully, those drinks won't ever be needed.