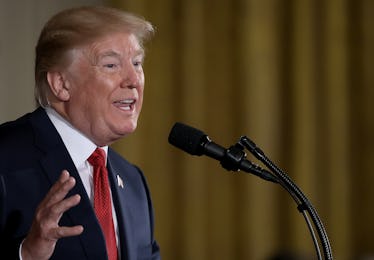 The White House Said All Women Who Accused Trump Of Sexual Harassment Are Lying
Win McNamee/Getty Images News/Getty Images
There have been a lot of brave conversations happening around sexual harassment and abuse lately. In light of the recent Harvey Weinstein allegations, women are stepping forward to say "me too," and sharing some of their most painful, private stories. This important dialogue has apparently, sadly, not reached the White House. According to Press Secretary Sarah Huckabee Sanders, the administration believes sexual harassment allegations against Donald Trump are lies, and that's about all they have to say about that.
During an Oct. 27 press conference, Sanders was asked about the 16 women who have accused Trump of sexual harassment. "Is the official White House position that all of these women are lying?" the reporter asked. Sanders said the White House has "been clear on that from the beginning, and the president has spoken on it."
Indeed, the president has spoken out against the allegations and vehemently denied all of them — while managing to be all kinds of offensive and derogatory towards the women in the process.
Back in October 2016, when an adult film star accused Trump of inappropriate sexual conduct, the business mogul told WGIR radio that the report was "total fiction." He added,
She's a porn star. You know, this one that came out recently, 'He grabbed me and he grabbed me on the arm.' Oh, I'm sure she's never been grabbed before.
The president continued to hit that sentiment home during a press conference last week, when he once again stated that the allegations aren't true.
"All I can say is it's totally fake news — just fake," Trump said. "It's fake, it's made-up stuff. And it's disgraceful what happens."
Twitter users quickly slammed the White House's comments as dismissive and insensitive.
None of what Sanders said is terribly surprising. I definitely was not laboring under any delusions that the Trump administration would be thoughtful and sensitive about these very serious allegations. But to straight-up call them lies? It's a strong, dangerous, and terrifyingly dismissive message to send to all sexual harassment and sexual abuse victims.
And it's also sending a dangerous message to America. Basically, Sanders and Trump are subtly indicating that a powerful man can flick away sexual misconduct accusations with the flip of a wrist and a shrug of the shoulder.
And let's take a look at those accusations, shall we?
An unnamed woman claimed to CNN,
Trump took Tic Tacs, suggested I take them also. He then leaned in, catching me off guard, and kissed me almost on lips. I was really freaked out. ... After (the meeting), Trump asked me to come into his office alone. Was really unsure what to do. ... Figured I could handle myself. Anyway, once in his office he kept telling me how special I am and gave me his cell, asked me to call him. I ran the hell out of there.
Then there was Natasha Stoynoff, a PEOPLE Magazine reporter who interviewed Trump in 2005. Stoynoff alleged,
We walked into that room alone, and Trump shut the door behind us. I turned around, and within seconds, he was pushing me against the wall, and forcing his tongue down my throat. ... I was stunned. And I was grateful when Trump's longtime butler burst into the room a minute later, as I tried to unpin myself.
Trump's response to that accusation? "You take a look. Look at her. Look at her words," he said. "You tell me what you think. I don't think so."
Ahh, so basically she wasn't good looking enough to even consider harassing. Totally get it now.
Trump used that same tactic when referring to one of his other accusers Jessica Leeds, who alleged that the mogul grabbed her breasts and put his hand up her skirt during a flight in the 1980's.
"Believe me, she wouldn't be my first choice," Trump declared during an October 2016 rally in North Carolina.
When Trump isn't denying sexual misconduct, he's busy bragging about it.
Like, this audio recording that needs zero introduction:
And (try not to vomit here), that time he told Howard Stern in 2005 that he'd walk into dressing rooms during pageants unannounced and uninvited. He said,
Well, I'll tell you the funniest is that before a show, I'll go backstage and everyone's getting dressed, and everything else, and you know, no men are anywhere, and I'm allowed to go in because I'm the owner of the pageant and therefore I'm inspecting it.' You know, I'm inspecting because I want to make sure that everything is good.'
You know, the dresses. 'Is everyone okay?' You know, they're standing there with no clothes. 'Is everybody okay?' And you see these incredible looking women, and so, I sort of get away with things like that.
Yeah, real solid public track record with respecting women and boundaries right there.
Moving forward, here's hoping that the Trump administration can learn to speak sensitively and thoughtfully about sexual harassment and abuse. And if they need some perspective, perhaps they can read the sadly growing, endless #MeToo thread, to develop some basic, important perspective.