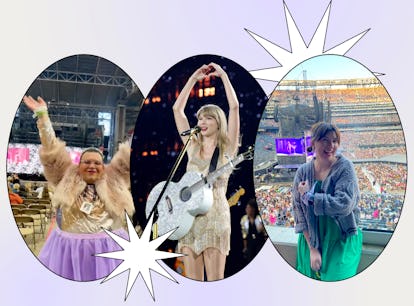 Taylor Swift's Eras Tour VIP Suite Vs. VIP Package: A Breakdown
Israel Mendoza/Kevin Mazur/TAS23/Getty Images Entertainment/Getty Images/Rachel Chapman/ Elite Daily
Obtaining Taylor Swift Eras Tour tickets is still an ongoing struggle for Swifties. Instead of going down in price, resale ticket are only going up. Many fans have had to budget around $1000 just to see the show from the last row. While you may have thought the most expensive VIP package was pricey before at $899, it's starting to look like a steal in comparison. There is one other VIP way to secure a last-minute ticket to the Eras Tour that not many fans know about, and that's through a VIP suite. Both experiences may be luxe, but deciding whether a Taylor Swift Eras Tour VIP suite or a VIP package is better depends on a few factors. Let's break it down.
I was recently invited to attend The Eras Tour with Philips Sonicare, which bought one of the VIP suites at MetLife Stadium for Swift's "NYC" shows. The tickets were gifted, but a suite for a concert at MetLife can range from $40,000 to $70,000 with up to 30 tickets included. This means that each person would have to spend about $1,333 to $2,333 a person for a VIP suite experience. That's definitely way more than the highest VIP package, but there are tons of perks that come with a VIP suite that may actually make it all worth it. Considering tickets on StubHub for the nosebleeds are currently priced at $1,400 for Swift's show in Chicago and $1,300 in Detroit, a VIP suite isn't too far off. Factoring in things like the view of the stage, the comfortability, and included amenities, here is where VIP suites compare to VIP tickets.
Seats For VIP Suites Vs. VIP Tickets For Taylor Swift's Eras Tour
The $899 VIP Eras Tour ticket is the "It's Been A Long Time Coming Package" and comes with an "unforgettable reserved" seat on the floor near the stage. Israel Mendoza, who attended The Eras Tour in Glendale, AZ, previously told Elite Daily that the view from their floor VIP seat a few rows back from the end of the catwalk was good, but there were issues with seeing the screens on top of the stage as well as what was happening on it. "When Taylor came to the end of the catwalk, you could really see her well," they shared, "However, my view was obstructed a few times because I had a lot of tall people in front of me."
Fans are going to be wearing some intricate outfits to Eras Tour that may get in the way. Plus, Mendoza warned that "people love to put their phone up high to record" whenever Swift is near, so it only gets worse the further back you are. If you don't have front row next to the stage, you may have to dodge some of these obstructions. Even if you are front row, Swift may not be near you at all times. The stage is massive, and during her over three-hour-long set, she moves up and down the catwalk quite a bit. You may be front row during the folklore era of the show, when she's on the main stage, but you will have to resort to watching the screens during the surprise song set — which happens at the far end of the catwalk. It's a gamble, but worth it for many Swifties who want to make eye contact for a brief second with their fave artist.
Of course, if you want to enjoy the entire show and be able to see every visual from afar — like Swift diving into the stage — you may prefer the suite life. Our VIP suite allowed me to see everything happening on the stage and on the catwalk. While we were given a box with more of a side view, we still got to see the folklore house and "The Man" set during the Lover era. As much as I would love to be able to notice the details on Swift's Speak Now dress up close, I preferred being able to see the entire show and not having to worry about someone being too tall in front of me.
Each stadium's suite has a different layout as well. Some come with seats attached. There might not be enough for everyone to sit in, but there is plenty of room if you're standing and dancing throughout the show — which most Swifties will be doing anyway. Other suites have a balcony or patio, which can turn into a general admission or standing-room-only situation. If you're sharing with your friends, though, it may end up just giving you more room to have an epic dance party during the show.
As much as I loved my suite and the view it provided of the entire stage, there are some additional perks to being on the floor. For instance, as you're getting to your seat, you may walk by the celebrity VIP tent, which has seen guests like Jack Antonoff, Shawn Mendes, Gigi Hadid, Blake Lively, and even a totally enamored Matty Healy. Some Swifties have even been able to exchange friendship bracelets with these celebs, like Jennifer Lawrence. While I was able to exchange the bracelets I made while walking around the stadium before going to my suite and with my suite mates, you do have a better opportunity of meeting new people on the floor. The suite doesn't really allow you to mingle with other fans, but that may not be your thing if you're booking a VIP suite with your besties and want to share the night with them. I did get to chat a bit with the people in the suite next to us, so it's not totally impossible to make new friends.
You could argue in favor of both seats all day, but ultimately, it comes down to the possibility of having a one-on-one moment with Swift that gives VIP packages the edge. For the once-in-a-lifetime opportunity of being that close, I'll award this first point to the VIP tickets rather than the VIP suites.
Merchandise For VIP Suites Vs. VIP Tickets For Taylor Swift's Eras Tour
Eras Tour merch has become almost as hard to cop as tickets themselves. Many fans have to line up hours or even days before their show in order to purchase exclusive items like the viral Eras Tour blue crewneck. One perk to getting a VIP package is you have early venue entry and access to a "crowd-free" merch booth. Mendoza said they only had to wait about 20 to 30 minutes for merch. When you order a package, you also get a box sent to you with exclusive items like a light-up lanyard, posters, and a tote bag.
Unfortunately, there were no merch stands available on the suite level. When I got to MetLife Stadium, the merch booths inside the venue already had at least an hour-long wait. Since I had gotten some merch online and from a previous show, I didn't bother waiting, but it was a nuisance just getting around the crowds in the stadium with all the lines. If you decide to wait in the merch lines, you're also wasting precious time you could be using to enjoy the expensive suite you paid for. Since it was a mission impossible for merch, this point is going to VIP tickets.
Food For VIP Suites Vs. VIP Tickets For Taylor Swift's Eras Tour
Since the show is long, you'll likely want to grab a snack or drink beforehand. Some venues even have their own specialty Eras Tour cocktails, like a Lavender Haze Lemonade. For anyone with a VIP package, you'll need to order food and drinks like you would at any show from the concession stand. This means another long line you'll likely have to wait in.
While VIP suites don't come with merchandise, they do come with catering. This was a huge perk. Some packages come with a catering credit included in the price, which means your food is already paid for. When we first arrived, they had appetizers out like chicken fingers, mozzarella sticks, and soft pretzels — aka my favorite snack. We also had a fully stocked bar where we could make our own drinks or just grab a can of cider, soda, or beer. Throughout night, more food would come like sandwiches and mac 'n' cheese during the openers and desserts during Swift's set. If you were hungry, there was food right there for you. You wouldn't even have to miss a second of the show to grab it. Obviously, the VIP suites are winning this round.
Other Perks For VIP Suites Vs. VIP Tickets For Taylor Swift's Eras Tour
Since the entire Eras Tour from opener to "Karma" runs almost five hours long, restroom access is more important than you would think. Swifties have even debated over which part of the set is the best time to run to the bathroom if you can't make it through. Even though the lines for the restroom aren't as horrible as the merch lines, they are still pretty long. Depending on where you're seating, it may also be a long journey to get to the restroom in the middle of the show.
This is where VIP suites win again. Our suite was literally right across from a restroom, so even if we had to go during the show, it would only take us a second to get there and back. Since it was only available to those on the VIP suite floor, there was also barely a line. The only time a line formed was right after Phoebe Bridgers' set and right before Swift was about to go on. Even then, you only had one or two people in front of you.
Some other perks included with VIP suites are paid parking spots. At the SoFi Stadium in Los Angeles, the VIP cabana suites on the field come with five VIP parking passes. SoFi's offsite parking ranges from $50 to $70, so that's not only saving you about $250 to $350 but you'll also be able to park closer to the venue.
Are VIP Suites Better Than VIP Tickets For Taylor Swift's Eras Tour?
At the end of the day, VIP suites and VIP packages to the Eras Tour are pretty comparable. There are pros and cons to each, but most Swifties would choose VIP tickets so they can be as close to the stage as possible. Don't sleep on those VIP suites, though. They may be pricier, but you're splurging for a luxe experience that really pays off.
Philips Sonicare set up our VIP suite with cute Swift-themed decor and had 1989 era instant cameras all around so we could snap pics throughout the night. Since we had the suite all to ourselves, it allowed us the freedom to roam. We could easily go grab a snack in between songs and shake it off without bothering our neighbors or getting yelled at by security.
If you are able to get a group of your own Swiftie squad to book a VIP suite, just imagine all the memories you could make together. The best part of all is that VIP suites are still available in most cities, unlike VIP tickets that are only being resold on sites like StubHub and SeatGeek for way more than their face value. If you're desperate for last-minute Eras Tour tickets, this may actually be the best and bougie way to finally get them.