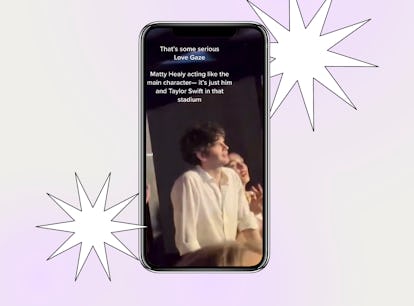 These Videos Of Matty Watching Taylor Perform Are So Boyfriend
The man is enchanted, y'all.
TikTok: @bbeulooksocool
Taylor Swift and Matty Healy's reported relationship isn't the most popular among Swifties. (Most of them are still making some version of the joke, "I'm not gonna call him dad.") But as Healy attends more and more shows along the Eras Tour, it's becoming clear the romance rumors aren't completely baseless — not to mention, Healy appears to be Swift's number one fan. The 1975 frontman has become a staple at the Eras VIP tent, and the videos of him watching Swift perform are giving TikTok all the feels.
Healy first showed up at Swift's Nashville concert on May 5, only two days after The Sun initially reported that the two were dating. During the show, Swift seemed to give Healy a nod, mouthing the words, "This one is about you. You know who you are. I love you." (Healy mouthed the same message at his concert on May 3.) But that's far from the only notable mid-concert moment between Swift and Healy. Since his first Eras show, he's been a consistent presence in the audience, going to the rest of the Nashville shows and all of her concerts in Philadelphia.
Obviously, fans have taken notice. On TikTok, videos of Healy at Swift's concerts are going viral, particularly the ones where he looks completely mesmerized by the Midnights singer... not that anyone could blame him. Without further ado, here are the best videos of Healy watching Swift sing, ranked from least to most boyfriend.
5. Matty Dancing To "Bad Blood"
"Bad Blood" isn't Swift's most lovey-dovey song, but that didn't stop Healy from dancing along. At the Nashville Night 2 show, he and Gigi Hadid were pretty much rocking out to the 1989 song, and the comments section couldn't get enough of it. "[Matty's] like I pledge allegiance to Taylor Swift," one fan commented, acknowledging the way Healy kept his hand on his chest. Another wrote, "he's in his lover era."
4. Matty Dancing With Phoebe
Healy and Eras opener Phoebe Bridgers watched Swift perform "Shake It Off" from the VIP tent. Though Healy's dance moves were a little questionable, it was clear he was having a good time at the show — and that he wasn't shy about being a bit of a Swiftie himself.
3. Matty Sitting With Taylor's Dad
Nothing says "boyfriend" quite like awkwardly sitting with your SO's parents. During one of the Philly shows, Healy sat in a box with Scott Swift — and their stilted camaraderie screamed of new relationship vibes. Not to mention, they were recorded listening to "I Knew You Were Trouble," all about dating a bad boy.
2. Matty Listening To "Fearless"
"Fearless" is all about the rush of falling in love, and based on Healy's reaction to the song, he'd have no problem listening to it on repeat. In the video, he watched Swift perform intently — and even if he didn't know the lyrics, that didn't stop him from seeming ~enchanted~ to be there. "Love struck Matty Healy was not on my 2023 bingo card," one fan wrote in the comments section. Another summed it up: "i am giggling for them i can't lie!!!"
1. Matty Singing "Lover"
"Lover" has some of Swift's most romantic lyrics, with words like, "Can I go where you go? / Can we always be this close forever and ever?" And it seems like Healy knew all of them. In a few different videos, he's been spotted passionately singing along with Swift. "Man is FEELING this song every time," one fan wrote. Another reacted to the video, "I love that he's consistently there 🥰."
No matter how you feel about Swift and Healy's connection, it's clear he has no problem watching her perform night after night. At the very least, Swift's got a major fan in Healy.