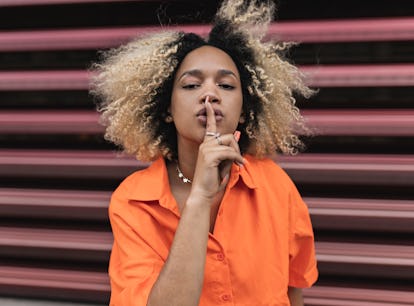 How Mercury Retrograde Summer 2023 Will Affect Your Zodiac Sign
It's actually calling on everyone to get their *shhh* in order.
Westend61/Westend61/Getty Images
There hasn't been a single dull moment since Leo season began. The plot twists around Venus retrograde have made for a series of standout moments: celeb villain eras, *very* public breakups, and an abundance of Barbie, Beyoncé, and Taylor Swift content have all been the perfect components for peak girl's girl summer. However, as the sun makes its way into the mutable earth sign of Virgo this month — the very same day that Mercury, the ruler of this sign, stations retrograde — everyone will be experiencing a major shift in priorities. Communicating effectively and taking practical steps to improve your life will be the only thing on the agenda, meaning that Mercury retrograde summer 2023 will be motivating every sign to focus on getting their responsibilities and affairs in order.
From Aug. 23 to Sept. 15, Mercury will station retrograde in Virgo, marking the beginning of a three-week review period regarding details, information, and communication. Since Mercury will be in the sign of its rulership and exaltation during this period, things won't feel as scattered as they would if Mercury was reversing through a different sign, but there's still bound to be some misunderstandings and mishaps, due to Mercury's slow movement through the sky. The house in your birth chart where Mercury will station retrograde is where you can expect the most fluctuations and changes over the next few weeks.
Here's what every sign can expect from Mercury retrograde summer 2023:
Aries Zodiac Signs (March 20 - April 20)
As Mercury stations retrograde on Aug. 23, you'll be prompted to revise your current habits, routines, and rituals to ensure that they're supporting your desire to be productive. Now is a fortunate time for paying attention to how you're making use of your time, Aries, but try not to be too hard on yourself if you're currently unsatisfied with your discoveries. You can get organized without overly micro-managing your time.
Taurus Zodiac Signs (April 20 - May 20)
On Aug. 23, Mercury will station retrograde in your fifth house of passions and hobbies, prompting you to reevaluate the ways you enjoy yourself. As a Venus-rued sign, you're very particular about what you indulge in, and this retrograde period will encourage you to reflect on whether or not your current activities have been actually keeping you satisfied. You may feel compelled to introduce a new craft or leisurely activity into your world now, but it'll be important not to overthink it, Taurus. These things are meant to bring you joy, not stress you out.
Gemini Zodiac Signs (May 20 - June 21)
Your chart ruler, Mercury, will be stationing retrograde this month, Gemini, which means that you'll be reevaluating how you communicate and process your thoughts, particularly when it comes to your home and family matters. On Aug. 23, you'll be prompted to make some adjustments behind closed doors that focus on improving any systems or routines that exist in your environment. This may also be a time where important conversations with a family member or roommate are being had, but be mindful of miscommunication during this time. It may take a few weeks for things to start running smoothly here.
Cancer Zodiac Signs (June 21 - July 22)
This month, as Mercury begins to retrace its steps through Virgo, you'll be revising your current thoughts, ideas, and perspectives. You pride yourself in being someone who retains important details and information, and this retrograde may be a time when you're reminding yourself of something important in your current studies. This may be a time to revisit a skill or study that you may feel unclear on, or a time to educate yourself on something new altogether. Either way, your mind will be very well-occupied during this retrograde.
Leo Zodiac Signs (July 22 - Aug. 23)
On Aug. 23, Mercury will station retrograde in your second house of money and resources, bringing forth a period of review regarding how you organize your finances. If you've been meaning to restructure your budget, now is a good time to do so, Leo. The detail-oriented nature of this retrograde will make it easier to handle your affairs, even if it's as simple as re-structuring your closet. Don't concern yourself too much with perfection now, and instead, try to set your sights on improving the ways you make the most of your time, money, and energy.
Virgo Zodiac Signs (Aug. 23 - Sept. 22)
August is a very busy month for you, Virgo. Not only is the sun traveling through your sign, but your chart, ruler, Mercury is retrograding through your first house, too. It's completely normal to feel a little stressed out now, but if anyone can work well under pressure, it's you. This retrograde is bound to be a time that you have your hands full with different responsibilities and obligations, so try your best not to bite off more than you can chew. While you may be servicing others more than usual now, it's important to remember that this season is about you, so don't neglect yourself.
Libra Zodiac Signs (Sept. 22 - Oct. 21)
On Aug. 23, Mercury will station retrograde, marking the start of a self-reflection period for you, Libra. This detail-oriented period is a great time to direct your focus inward, before your season begins. While you're bound to be doing plenty of self-analyzation now, try not to grow overly consumed with your shortcomings. Now isn't the time to pick yourself apart, but it's an opportunity to consider how some of your habits could be unproductive and potentially working against you.
Scorpio Zodiac Signs (Oct. 21 - Nov. 22)
As Mercury stations retrograde on Aug. 23, your friendships and alliances will be under review. During this period, you may be counseling or giving advice to your peers more than usual, or reassessing some of your connections altogether. Because of the nature of this retrograde, communication may be more of a challenge than usual, so be mindful of the information you're sharing with others now. It's essential to fact-check now more than ever.
Sagittarius Zodiac Signs (Nov. 22 - Dec. 21)
This month, you'll be reevaluating your professional pursuits as Mercury stations retrograde. You may be entering a busier season at work, that requires you to juggle multiple tasks at once. Or, you could be reconsidering the path you're currently on in your career. As this Mercury retrograde unfolds, you'll be motivated to find ways to improve and adjust anything that's not running smoothly here, but try not to stress too much about getting things perfect. Trial and error is the general vibe now, so don't be so hard on yourself if progress is slow.
Capricorn Zodiac Signs (Dec. 21 - Jan. 19)
On Aug. 23, Mercury will station retrograde in your ninth house of higher wisdom, travel, and spiritual beliefs, inviting you to re-consider the mottos and perspectives you're currently living by. This could be a time to introduce a new perspective into your life, or take a trip that expands your horizons. While this period may come with some uncertainty, it's important not to worry too much about perfection now. Life outside your usual routine can teach you a lot, Capricorn, but only if you're willing to embrace the unknown.
Aquarius Zodiac Signs (Jan. 19 - Feb. 20)
You'll be reassessing your boundaries in relationships this month, as Mercury stations retrograde. You may find yourself offering more advice and support to your loved ones, or even financial assistance to someone in need. While you love taking care of other people, now is an opportunity to reevaluate just how much of yourself you're giving away. You may also receive important information now, that you may have to keep secret for awhile. Try not to let the burdens of others stress you out too much, Aquarius. Draw a line if and when necessary.
Pisces Zodiac Signs (Feb. 20 - March 20)
Your romantic relationships will be a focus this month, as Mercury stations retrograde in your seventh house. You may find yourself lending a helping hand to a partner or loved one now, or offering support through advice or a listening ear. Try not to become overly consumed with the problems other people are experiencing now, Pisces, as their stress could easily transfer onto you. You'll also want to be aware of any miscommunication taking place between you and others from now until Sept. 15, as information could easily be taken out of context.