Add A Little Bit Of... Spice 🌶️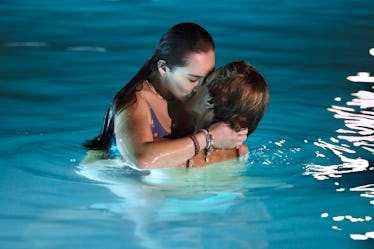 How Venus Retrograde 2023 Will Affect Your Zodiac Sign
Your hot girl summer is about to get even ~hotter~.
Prime Video
Alexa, play "You're So Vain." Planet of love and beauty Venus has been traveling through Leo since June 5, prompting everyone to shower themselves and others with a little extra love. (Just in time for a hot new summer fling, perhaps?) However, as Venus prepares to station retrograde this month, your situationship may not exactly be without its complications. For the first time since 2021, Venus will be retracing her steps through the sky, bringing some major changes forward when it comes to matters of the heart. Not only will Venus retrograde 2023 affect every zodiac sign's ability to find peace in their relationships with others, but it will also prompt the collective to revise the ways they show self-love.
When Will Venus Retrograde In 2023?
Taking place on July 22, Venus will station retrograde at 28 degrees of Leo until Sept. 3. During this 40-day period, every sign will reconsider their relationship with things that bring them pleasure and satisfaction. How do you cultivate fulfillment in your life, and how can it potentially be improved? While romantic relationships will be where many people notice this emphasis, this retrograde can also impact your spending habits, or even alter your relationship with beauty, fashion, and artistry. In the fixed fire sign, Venus looks to feel seen, acknowledged, and appreciated, which means that your desire to feel externally validated by others could be more of a theme.
Venus retrogrades can also be a time when scandals and hidden love affairs are exposed. (Ahem, rumors of Brad Pitt and Angelina Jolie first getting together began during a Venus retrograde, so...) It tends to be a notorious time for drama in relationships, and since this is Venus's first time stationing retrograde in the buoyant, expressive sign of Leo since the summer of 2015, it's certain to be a scandalous summer for some signs. You may also want to take a look at what you were experiencing in life eight summers ago, to better understand what parts of your life may be impacted.
Here's what every zodiac sign can expect from Venus retrograde in Leo:
Aries Zodiac Signs (March 20 - April 19)
On July 22, Venus will begin to retrace her steps through your fifth house of passions, pleasures, and romance. This is a time for revising the ways you enjoy yourself, Aries. Are you engaging in activities that truly bring you joy? Regardless of what others may think, the way you cultivate happiness in your life should always center around you and your desires. Feel free to revisit that hobby you abandoned, or go have some fun at a festival or concert with your partner. You're having plenty of fun this summer, but it's important not to lose sight of what truly fulfills you.
Taurus Zodiac Signs (April 19 - May 21)
This month, your chart ruler, Venus, will be stationing retrograde, marking a period of revision not only for you, but for your home and family. You're not typically a fan of grand displays of affection or excess, but from now until October, you'll be revising the ways you express yourself behind closed doors, and with relatives or roommates. This may coincide with redecorating your living space, or a change in dynamic with a family member. Either way, it's important to advocate for yourself now, even if it's in private, Taurus.
Gemini Zodiac Signs (May 21 - June 22)
As Venus stations retrograde, the way you connect to others via shared ideas and perspectives will begin to shift. You're a naturally expressive individual, and you do this best through your words. However, from now until Sept. 3, you'll be reconsidering how you translate your thoughts to the people around you. Although it may be more difficult to feel connected to others when speaking your mind, it's important that you do so anyway. You may also fall in love with a new podcast, book, or interest now that motivates or inspires you.
Cancer Zodiac Signs (June 22 - July 22)
On July 22, Venus will station retrograde in your second house of money and resources, allowing you to shift your relationship to your current possessions or belongings. You'll be feeling inclined to secure things that make you feel confident and proud now, so much so that it could potentially be excessive. To combat this, try to appreciate the things you already have now, Cancer; you may find that it's more than enough. If you find yourself feeling the need to go on a shopping spree, be sure to tread lightly — retrogrades aren't typically the best time to make impulse buys.
Leo Zodiac Signs (July 22 - Aug. 21)
Get ready, because this is one of the most impactful transits of the year for you, Leo. As Venus stations retrograde in your sign, you'll be feeling the urge to rebrand yourself and the way that you're perceived by the outside world. You've always been someone who cared about appearances, but from now until September, you'll be seriously reconsidering how you take up space. It's important that you focus your attention on yourself now, Leo, and not on the approval (or lack thereof) from others. The people that are meant to be in your life will always love you for you, and never require you to dim your light.
Virgo Zodiac Signs (Aug. 21 - Sept. 22)
On July 22, Venus will begin to retrace her steps through your 12th house of isolation and introspection. This transit is a tricky one for you, Virgo, because you don't typically enjoy loud displays of affection from others, or even doing them for yourself. However, this retrograde is a time to get introspective about how you allow your inner light to shine. While you may not love attention from the outside world, it's important to not deprive yourself of self-love. Invest in that luxurious spa day, or that designer bag. It's OK to keep the ways you treat yourself, to yourself.
Libra Zodiac Signs (Sept. 22 - Oct. 21)
This month, your chart ruler, Venus, will be stationing retrograde, prompting a period of revisions in your friendships and alliances. You take pride in your community, Libra, and during this retrograde, you'll be invited to readjust your relationship to the people you surround yourself with. You may find yourself letting old friendships go, or connecting with people who really *see* you. While you're the biggest fan of your friends, it's important that you also feel appreciated and valued too.
Scorpio Zodiac Signs (Oct. 21 - Nov. 22)
As Venus stations retrograde, you'll be making some changes to how you present yourself publicly and professionally. If you have your own business, this could signify a personal rebrand, or a time for you to reconsider how you connect and build relationships with your audience. Your reputation could also be going under some adjustments now, so be mindful of what you choose to share with the masses during this period. You tend to be a pretty private person, and this retrograde is bringing far more attention your way than what you're used to.
Sagittarius Zodiac Signs (Nov. 22 - Dec. 21)
On July 22, Venus will station retrograde, prompting you to reconsider your relationship to your current philosophies, studies, and beliefs. You're someone who likes to share what you know with the world, but during this retrograde, the ways you connect with others through shared ideals will start to shift. Now is the time to consider how what you believe in aligns with who you are, Sagittarius, and if the words you've been living by still resonate with you. It's OK to have a change of heart. If anything, it means that you're evolving.
Capricorn Zodiac Signs (Dec. 21 - Jan. 20)
This month, Venus will station retrograde in your eighth house of secrets, shared resources, and personal boundaries, bringing some important revision to your intimate connections. This retrograde is a time for you to express your needs to others, Capricorn — something you're not typically a fan of doing. As much as you enjoy feeling needed, it's important that you feel appreciated by those you're lending a helping hand to. If you've been giving far more than you've been getting, now's the time to set some boundaries.
Aquarius Zodiac Signs (Jan. 20 - Feb. 20)
On July 22, Venus will station retrograde in your seventh house, revising how you connect with others, particularly in your romantic affairs. While you're usually not the biggest fan of attention from others, you'll be requiring more appreciation and acknowledgement from the people in your life now, and rightfully so. Wanting to feel seen by your loved ones doesn't make you dramatic, Aquarius, it only makes you human. Just be mindful of engaging in ego-driven pursuits to get your partner's attention now. They could potentially backfire.
Pisces Zodiac Signs (Feb. 20 - March 20)
You'll be redefining the ways you find pleasure in your daily life this month, as Venus stations retrograde in Leo. It's important that you engage in day-to-day rituals that bring you joy, Pisces, no matter how small they may seem, and this retrograde is a time to reconsider what that looks like. Whether it's investing in monthly facials or grabbing coffee from your fav spot every day, treating yourself on a regular basis is essential. Try to incorporate more activities in your routines that make you feel good this summer, and you're bound to feel rejuvenated.