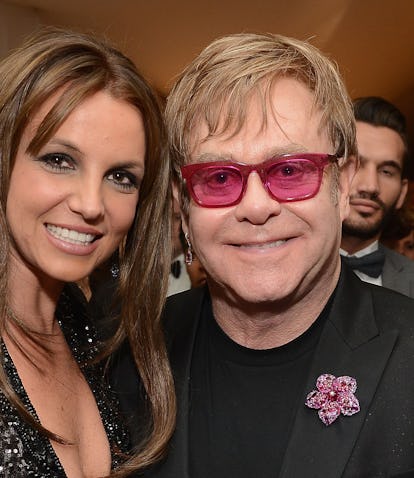 Elite Daily Newsletter: July 28, 2022
Britney Spears and Elton John recorded a duet, Lamar Odom was weird about Khloé's baby, and more.
Michael Kovac/Getty Images Entertainment/Getty Images
A version of this content appeared in Elite Daily's newsletter on July 28, 2022. If you like what you see, sign up to receive it in your inbox right here.
10 Ways To Save Money On Flights, According To TikTok Travel Influencers
Name someone who doesn't like saving money on flights, I'll wait. Exactly — that person doesn't exist. Of course we all know that avoiding checked bags can be a good way to save some cash (and some major headaches), but there are other ways to save that you might not have thought about. Lucky for us, these travel influencers are not about gatekeeping their budget hacks. READ MORE
Lamar Odom's Reaction To Khloé And Tristan's Baby Is……????
I simply love our time-honored tradition of reaching out to famous people's famous exes to ask them about their feelings, because it is always capital-M Messy. When Lamar Odom was asked about True's forthcoming little sibling, he gave an answer that is so cringe. What's the opposite of a slam dunk? Is it an air ball? This is the air ball of celebrity commentary this week. READ MORE
TRENDING
27 Self-Love Captions To Hype Up Your Instagram Selfies 💗
Treat Yourself To An Easy, DIY Neon Bright Summer Mani 💅
Ashton Explained Why He And Mila Decided To Return For That '90s Show 📺
These Little Miss IG Trend Creators Spill The *Best* Tips For The Perfect Meme 🎀
She's Back: Britney Spears And Elton John Recorded A Duet
This is a collab made in heaven, and I cannot wait to hear this song, which is reportedly a duet version of one of Elton John's most enduring classics. And even better — it should be released next month. All I can say is "Gimme More." Or, "Don't Go Breaking My Heart" and tell me that this is just a rumor. READ MORE
EmRata Liked Some Shady Tweets About Her Ex
Stars, they're just like us! Petty and messy, if the situation calls for it. And I would say that getting cheated on (reportedly etc. etc. etc.) is probably a great time to go low (sorry, Michelle Obama). Fans found out that EmRata was liking some tweets about the situation, and I am fully here for this behavior. READ MORE
MORE FUN STUFF
Meet The TikToker Spilling All The Royal Family Tea
Bailee Madison Is Keeping All The Pretty Little Liars Secrets
The Spice Girls Are Reuniting For A Netflix Docuseries