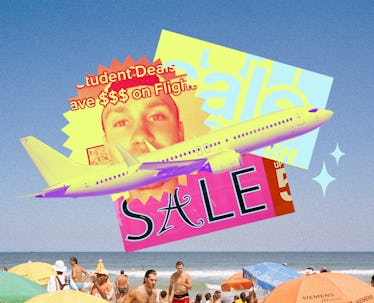 10 Ways To Save Money On Flights, According To TikTok Travel Influencers
These secret hacks could save you hundreds.
After two years of travel uncertainty, airlines are finally back in action, and those plane tickets you've been manifesting are patiently waiting to be claimed by you. The world is your oyster, and you can finally go anywhere you want — if you can afford the fares, of course. Even though travel options are open again, that doesn't mean ticket prices haven't been inflated, in addition to add-on travel costs like gas and food. It seems daunting to travel on a small budget, but you shouldn't have to sacrifice your dream of embarking on life-changing adventures. Here's how to save money on flights, straight from TikTok travel influencers who've nailed the best travel hacks out there.
Traveling is never really stress-free, which is why planning — especially with your travel budget — is so vital. It starts when you go to research your tickets, and if you do it right, you can save hundreds of dollars before you even fly. Luckily, the popular app has got your back with plenty of TikTok travel hacks to navigate the cheapest ticket possible for your next big trip. There are tons of tips, from how to save money on international flights to how to claim money the airline owes you for inconvenient delays. Browse through these TikTok flight hacks and use the extra money you save for souvenirs, amazing food, and experiences you'll remember forever.