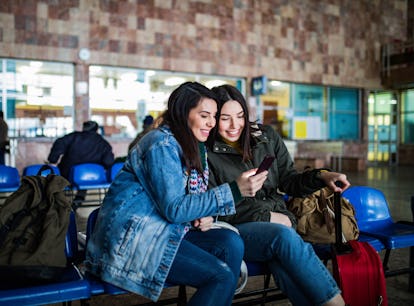 These TikTok Travel Hacks Include Getting Compensation For An Airline Bump
Plus, why you shouldn't drink airline coffee.
DusanManic/E+/Getty Images
Traveling seems to be at the top of everyone's to-do list this year. After staying close to home for almost two years, the wanderlust is more real than ever before. However, before you make any solid plans, it's best to check out the top TikTok travel hacks and trends for 2022 to make sure you're getting the best deal for your journey and saving money where you can.
While TikTok is your go-to resource for cleaning hacks and new foodie recipes, you might be surprised to know that the video-sharing app is also one of the best places to find travel tips. As of Monday, Jan. 31, the #travelhacks tag has over 765 million views. If you're looking to get away sometime this year, TikTok can also help you discover the top travel trends of 2022 to narrow down where to fly to first.
According to travel experts at Next Vacay, Google searchs for "air travel hacks" have also increased by 350% as of Jan. 14 over the last 12 months, showing that Gen Z is putting more focus than ever on saving money on traveling and flights.
Whether you'd like to see your long-distance bestie for the first time in years or fly overseas to one of your bucket list destinations, TikTok can help you plan a super budget-friendly adventure as well as providing flight hacks for cheap flights.
In fact, things like learning about airline bump compensation is a perk of keeping up with the best TikTok travel hacks and trends. Instead of scrolling through the FYP to find all the info you need, though, you can just check out these 10 viral tips picked out just for you.
The CDC recommends traveling only after you're fully vaccinated and your vaccine has become fully effective. If you're not fully vaccinated and must travel, check the CDC guidelines before you book. Check your destination's vaccination and testing requirements before you depart.