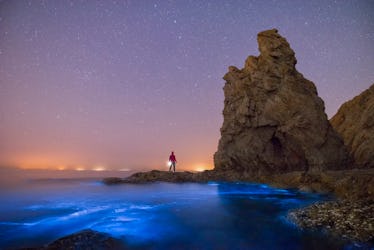 The Top Travel Trends For 2022 Include Nighttime Adventures And Spontaneous Trips
Plus, BTS' popularity has inspired one bucket list destination.
500px Asia/500px Asia/Getty Images
After staying close to home for almost two years, you're more than ready to go wherever your passport will allow. The wanderlust within has never been greater, so with a new year, it's time to set some new goals to adventure more in the new year. Chances are you're definitely planning to vacay in some of the greatest destinations, but where exactly should you set your sights in 2022? Well, according to some experts in the travel industry, these 2022 travel trends and predictions include so many vlog-worthy destinations as well as a greater emphasis on cool experiences.
You're ready to dive into some new adventures in 2022. Whether you're planning on staying closer to home or looking farther afield in the new year, you're ready to dust off your suitcase. You should still keep an eye on the most up-to-date health and travel guidelines from the Centers For Disease Control and Prevention as well as any restrictions of wherever you're traveling to, but you'll first need to know where you'd like to go.
While you probably have been putting together a travel wish list since 2020, you may need some direction from travel experts at Expedia, Pinterest, Hilton, and Booking.com about 2022 travel trends to help you come up with an agenda. Staying on trend with your adventures will ensure you have the most epic vacay. You want something that is even more than just an Insta-worthy destination to make up for all of that time you spent sitting on your couch dreaming of sitting on an airplane or taking the road trip of a lifetime. With that in mind, check out these 12 travel trends and predictions for 2022 to inspire your next getaway.
The CDC recommends traveling only after you're fully vaccinated and your vaccine has become fully effective. If you're not fully vaccinated and must travel, check the CDC guidelines before you book. Check your destination's vaccination and testing requirements before you depart.