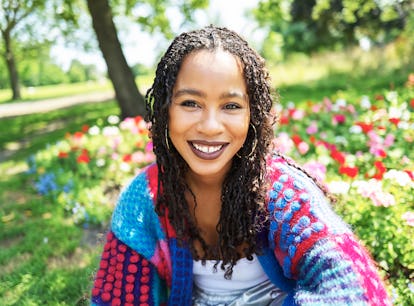 25 Self-Love Captions For Instagram That'll Really Gas Up Your Selfies
I'm loving me, myself, and I.
Kelly Mitchell/Moment/Getty Images
While self-love is important to practice, it's hard to do at times. Your reasons can be a simple as you're too busy to really reflect on all the accomplishments you've achieved thus far or you're just doubting yourself in general. Just like you make time to treat yourself to your fave iced coffee or to watch your favorite series on Netflix, you should also make time to practice a little self-love as well. One easy way to do this is with some self-love captions for Instagram.
Let's face it, coming up with captions can be difficult AF. After all, what do you say with a cute selfie you just decided was 'Gram-worthy? You could always go with a pun or something generic, but this is the perfect opportunity to write out some self-love quotes instead. By showing yourself the appreciation and validation you deserve with a supportive self-love quote, you're not only giving yourself a caption that's unique and thoughtful but it's also benefiting you. You're practicing that gratitude while gassing yourself up.
These 25 self-love captions also work for a photo dump of everything you did in the previous month. While you're showing off your fave memories, your self-love quotes or self-love Instagram captions can demonstrate just how happy you are to be living this life you're leading. So, what are you waiting for? It's time to show off some of that love for your number one person.
"How you love yourself is how you teach others to love you." — Rupi Kaur
"You, yourself, as much as anybody in the entire universe, deserve your love and affection." — Buddha
"Loving yourself isn't vanity. It's sanity." — Katrina Mayer
"Gonna love myself, no, I don't need anybody else." — Hailee Steinfeld, "Love Myself"
"Your self-worth is determined by you. You don't have to depend on someone to tell you who you are." — Beyoncé
"Do not allow people to dim your shine because they are blinded. Tell them to put on some sunglasses, cuz we were born this way!" — Lady Gaga
"If we stop defining each other by what we are not and start defining ourselves by who we are — we can all be freer." — Emma Watson
"The rest of the world was black and white, but we were in screaming color." — Taylor Swift, "Out Of The Woods"
"If you're lucky enough to be different, never change." — Taylor Swift
"If we treated ourselves as well as we treated our best friend, can you imagine?" — Meghan Markle
"You deserve someone who makes you feel like the otherworldly creature you are — yourself." — Amanda Lovelace, The Princess Saves Herself in This One
"Be so completely yourself that everyone else feels safe to be themselves, too."
"Love yourself first and everything else falls into line. Your really have to love yourself to get anything done in this world." — Lucille Ball
"I promise that you'll never find another like me!" — Taylor Swift, "ME!"
"I just want everyone to remember if you can love me, you can love yourself. Every single day." — Lizzo
"Uh, I'm in love with myself." — Lizzo, "En Love"
"I needed to lose you to love me." — Selena Gomez, "Lose You to Love Me"
"I'm only alive because fate wants me alive." — Avengers: Infinity War
"I don't think that loving yourself is a choice. I think that it's a decision that has to be made for survival; it was in my case." — Lizzo
"To love oneself is the beginning of a lifelong romance. — Oscar Wilde, "An Ideal Husband"
"If you have the ability to love, love yourself first." — Charles Bukowski
"Just be yourself. There is no one better." — Taylor Swift
"I have come to love myself for who I am, for who I was, and for who I hope to become." — RM of BTS
"I'm worldwide handsome, you know?" — Jin of BTS
"The things that make me different are the things that make me ME." — A.A. Milne, Winnie The Pooh