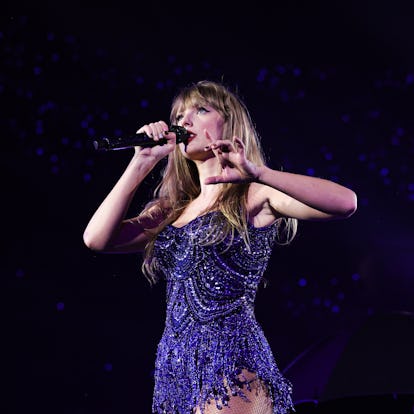 What To Wear To Taylor Swift's Eras Tour, Based On Your Sign
Allow the cosmos to pick your international concert 'fit.
It's been a hot minute since Taylor Swift wrapped up the first leg of her Eras Tour in North America. But, after a two-month hiatus following her stint in Mexico City at the end of August, the Grammy winner is ready to dominate South America throughout the month of November, which means you need some new T-Swift-themed outfit ideas to wear to her international concerts. Since TayTay herself is a fan of astrology, where better to look for guidance than to the stars? That's right, your zodiac sign may actually hold the key to the peak Eras Tour 'fit for your personality.
If you've been keeping count, then you've probably noticed that the "Karma" singer has worn more than 40 different costumes throughout her OG Eras Tour run. That means there are dozens of 'fits you could use as inspo for your very own look. While you may not want to hand sew 5,300 crystals and beads onto a bodice (which took professionals at Oscar de la Renta 315 hours to do), you could certainly look out for some genius dupes ahead of her next batch of performances.
Below, you'll find the Taylor Swift Eras Tour outfit that best aligns with your zodiac sign — which you could DIY or maybe even find on Etsy — so you could have your very own *bejeweled* moment.
Aries: The Reputation Outfit
All the pieces fall right into place when you're wearing a statement-making 'fit. You're a fiery fire sign, after all, which means you're used to being front and center. You also love to take risks — and what outfit of Swift's is more risky and ~scandalous~ than her iconic Reputation 'fit? The red and black look embodies an era you're all too familiar with: the baddie era.
Taurus: The Folklore Outfit
There's an invisible string that's always tying you to pastels, which is why a variation of Swift's Folklore dress is your dream concert attire. Not only is the fabric lightweight, but it's ruffled in all the right places. As a Venusian, you love sticking to what's comfortable and high-quality, which is exactly what you get here. If it looks like you could take a cozy nap in it, it's a keeper.
Gemini: The Speak Now Dress
Sparks fly when you wear fun fashion, Gemini, which is why a 'fit from the Speak Now era is the one for you. Long live the standout dress covered in flowers, but also shout-out to the one Kim Kardashian couldn't help but replicate on her birthday.
Cancer: The Acoustic Outfit
Cozy 'fits are your go-to, Cancer, which is why the dress Tay wore during her nightly surprise song is perfect for your relaxed nature. Anything too itchy or uncomfortable is bound to put you in a #mood, so it's best to keep things soft and comfortable. A color that's easy on the eyes and ruffles that add to the look without being too overbearing — a match made in heaven.
Leo: The Orange 1989 Outfit
You're the sun-ruled sign of the zodiac, so it makes total sense that you'd be into the red lip classic thing and the orange two-piece Tay wore during her 1989 set. Not only does it light up a room, but it's covered in rhinestones, and one of the brightest outfits Swift's worn throughout her entire tour. You've never been afraid of bold colors, Leo; they only add to your dazzling personality.
Virgo: The Evermore Outfit
'Tis the damn season for earth tones. Swift's bronze Evermore dress is one that she rarely wears, but it matches your vibe perfectly, Virgo. You tend to go for looks that are a bit understated but styled to perfection, making this gown a 10/10 for you.
Libra: The Lover Outfit
Not only are you a lover, you're stylish, too. The custom Atelier Versace bodysuit covered in pink and blue jewels Tay wore during her Lover set is eye-catching for any Venusian who loves metallics and pastels. It also closely resembles the colorful sky that's featured on the album cover — perfect for a hopeless romantic like yourself.
Scorpio: The Red Romper/Coat Outfit
All hail the All Too Well (10 Minute Version) jacket. You're all for a 'fit that pushes the limits without being too intense. As the cautious sign of the zodiac with your wide-eyed gaze, you're a fan of attire that has a bit of mystery, and this one incorporates many different elements in order to achieve a hot yet sophisticated look.
Sagittarius: The Red Outfit
It feels like a perfect night to dress up in a "22"-inspired lewk. A free-spirited fire sign like you loves bold colors like red. And as someone known for their honest perspectives and opinions, rocking a slogan you picked out on a T-shirt makes sooo much sense. Swift is a Sagittarius, after all, so having one of her quotes or lyrics would be *chef's kiss*.
Capricorn: "The Man" Versace Blazer Outfit
No one gives boss b*tch like you do, Capricorn. As the goal-driven sign of the zodiac, you love a look that can be worn for brunch or business. While you may not want to wear this outfit to your next work dinner, it's bound to be one of your faves on the tour. Paired with the shimmery knee-high boots, it's the perfect 'fit for taking over the world.
Aquarius: The Midnights Outfit
While you may not exactly be a leotard girlie, you're a fan of colors you don't see every day, and it's safe to say this midnight blue is a rarity — at least on the Eras Tour. This bodysuit is one that Swift debuted for the first time toward the end of the first leg, with many thinking it was a 1989 (Taylor's Version) easter egg. So, on the weekend of your tour stop, don't dress for friends — dress for revenge.
Pisces: The Fearless Outfit
You love any ensemble that goes against the grain — and the Fearless dress couldn't be more dynamic. Not only is it a Taylor Swift staple, but it has this childlike charm to it, just like you. It may even remind you of a simpler time, when the reality of adulting hadn't fully sunk in yet. Fortunately, your imagination is vivid enough to teleport you back to this iconic era. Don't know how it gets better than this.