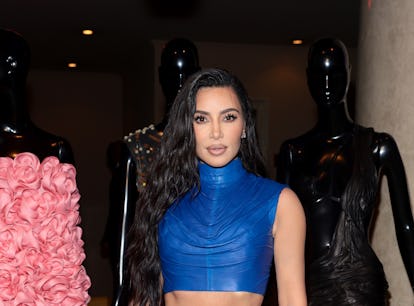 Hold Up — Did Kim K Just Recreate Taylor's Speak Now Cover?
She def did this on purpose, right?
Dimitrios Kambouris/Getty Images Entertainment/Getty Images
One of Kim Kardashian's latest Instagram photos has sparks flying for Swifties. The socialite has long been thought of as persona non grata among Taylor Swift's fans following her public feud with the singer in 2016, but in an unexpected turn of events, Kardashian seemed to embrace her inner Swiftie a couple days after the release of Speak Now (Taylor's Version). Could the sartorial shoutout be a sign that the Kardashian-Swift war is finally over? Whatever the case, Swifties are certainly finding the outfit choice to be better than revenge.
On Sunday, July 9, Kardashian shared a carousel of photos showcasing the flowing plum-colored gown she wore to the Doce & Gabbana Alta Moda runway show in Alberobello, Italy. Of course, purple dresses are top of mind at the moment following the release of Speak Now (Taylor's Version), Swift's era which is closely associated with that color thanks to the dress she wears on the album cover. Wearing the same color dress isn't enough to draw any actual conclusions, but Kardashian's pose in the second photo she uploaded set off the Swiftie sirens.
In the shot, Kardashian is looking back at the camera over her bare left shoulder, as her purple dress cascades to the ground around her. It's nearly an exact replica of the Speak Now (Taylor's Version) album art that was revealed days earlier.
The comparison was not lost on Swifties, who took the photo as a sign that Kardashian was showing her love for Swift's new re-release.
Fans are hoping the small gesture could be a hint at Swift and Kardashian burying the hatchet seven years after their spat, especially since the fight mainly had to do with Kardashian's husband at the time Kanye West, whom she divorced last year. Since the split, Kardashian has been open about not seeing eye-to-eye with her ex-husbands extremist beliefs and actions.
If Kardashian is actually bopping along to Speak Now (Taylor's Version), there's one song she might find especially interesting. The newly released vault track "Castles Crumbling" is heavily rumored to have been inspired by the start of Swift and West's feud at the 2009 VMAs.
Swift has been able to squash major feuds in the past, so maybe this could be a new beginning for her relationship with Kardashian. We'll just have to wait to see what happens when Reputation (Taylor's Version) eventually drops, because that will be the real test.