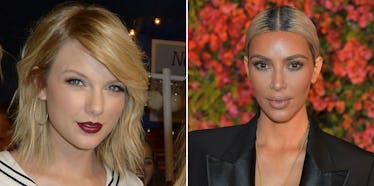 4 Of The Most Shady Moments Between Kim Kardashian & Taylor Swift
Charley Gallay/Getty Images, Gustavo Caballero/Getty Images
Celebrity relationships and friendships are a rare breed. These famous faces have their lives played out in front of the masses, whether it's the good, the bad, or the straight-up shady. In Elite Daily's new series, It's Complicated, we're highlighting the biggest celebrity "feuds" that took over Hollywood and dominated our Sunday brunches for weeks on end. We'll take a deep dive into the lives and social media feeds of our favorite stars and dissect what happened in front of the camera, what went down behind the scenes, and everything you might have missed in between.
There are few things in life that we know for certain, and those are death, taxes, and endless drama between Kim Kardashian and Taylor Swift. And honestly, neither party is exactly subtle about their feelings toward the other. We see remnants of their feud pop up in song lyrics, tweets, and just about every other form of social media you can think of. But there are some shady Kim Kardashian and Taylor Swift moments that are *almost* too much to handle. (Emphasis on "almost," because honey, I'm all about overseeing that drama.)
If you were hoping to read the ultimate round-up of all things Kim-and-Taylor-feud related, congratulations! You're in luck because that's exactly what you'll be doing. These Kim Kardashian and Taylor Swift moments are so shady, you won't even need to pack the sunblock.
1. July 2016: Kim Kardashian tweeted about a "snake," which fans thought was aimed at Taylor Swift.
Back in July 2016, when Kardashian posted the video of West and Swift's conversation about the "Famous" lyrics (you know the one), she posted a very salty tweet almost immediately after:
Many fans pieced it together pretty quickly that Kim K's tweet was really only meant one person: Taylor Swift.
So much shade, so little time.
2. August 2017: When Taylor Swift's snake Instagram posts seemed to be aimed at Kim Kardashian.
Before Reputation dropped, Taylor Swift posted snake videos to Instagram and Twitter in August, and a lot of people wondered whether the snake signified Kim K and their feud:
While Swift never confirmed what all that snake business was about, many fans connected the dots and thought that this was yet another dig at Kardashian.
3. November 2017: When Taylor Swift's Reputation album lyrics were all about Kimye.
When Taylor dropped Reputation back in November of 2017, the world rejoiced because it was an album filled with songs that were pure FIRE. But everyone knows when you play with fire, someone gets burned, and it seems that Swift was hoping it would be Kimye.
We know all about Kanye West's dig at Taylor in his song "Famous," but Swift decided to throw that shade right back with plenty of lyrics in her newest songs.
In her song "I Did Something Bad," there are lyrics about "receipts," which might be a reference to the footage Kardashian released of a phone conversation between West and Swift about the "Famous" lyrics. In the infamous video, Swift can be heard "approving" the lyric about her, even though the singer claims that isn't how it went down. Some of her "I Did Something Bad" lyrics, which may reference this feud, go:
They're burning all the witches, even if you aren't one, they got their pitchforks and proof, their receipts and reasons, they're burning all the witches, even if you aren't one, so light me up
In her song "This Is Why We Can't Have Nice Things," the feud may also be referenced with this lyric:
And therein lies the issue, friends don't try to trick you, get you on the phone and mind-twist you, and so I took an axe to a mended fence
I mean, we can pretend that this could be about anything or anyone, but let's be real: Swift, it seems, is totally pointing the finger here.
Also in "This Is Why We Can't Have Nice Things," Swift also references one of West's songs, "Real Friends," and it's definitely a dig at Kimye:
Here's a toast to my real friends, they don't care about that he said, she said, and here's to my baby, he ain't reading what they call me lately, and here's to my momma, had to listen to all this drama, and here's to you, 'cause forgiveness is a nice thing to do, haha, I can't even say it with a straight face
Damn, Tay, that's catty. Elite Daily reached out to Swift's team for comment on the song lyrics, but did not hear back at the time of publication.
4. February 2018: When Kim Kardashian sent Taylor Swift and her other "haters" a Valentine.
In case you missed it, Kim Kardashian created perfume back in January, just in time for the holiday of looove. The Kimoji Valentine's Day perfumes looked like life-sized versions of candy hearts that displayed adorable names like "Bae" and "Ride or Die" written on them. Cute, right?
Kardashian took to Instagram to show fans she was mailing out her perfumes to some very ~important~ people — like Chrissy Teigen, Mariah Carey, and her mom, Kris Jenner — all seemingly arranged by color-coded sticky notes. But then a few eagle-eyed fans noticed that all of the blue-colored sticky notes were names of celebs who Kardashian shared beef with at some point — including Taylor Swift. In her video posted in February of 2018, Kardashian said,
I am writing the list for my press boxes, and I'm going to send them to way more than this. But, I decided for this Valentine's Day, everyone deserves a Valentine. So I'm going to send them to my lovers, my haters, to everyone that I think of. Because it's Valentine's Day after all.
Well, damn. It looks like Swift, alongside Blac Chyna, Wendy Williams, Chloë Grace Moretz, and more received a Valentine's Day gift from Kardashian. Apparently, even haters deserve some love on the most romantic holiday of the year.
That, my friends, is shade at its very finest.
I think the moral of the story here is that if you have to start beef with someone, make sure you have plenty of shade prepared. Or just squash any feelings of hatred, hug it out, and live happily ever after.
A girl can dream, right?