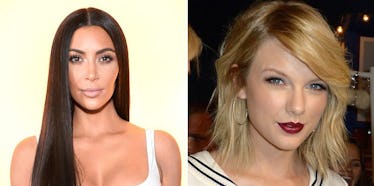 Throwback Video Of Kim K Proves Her Taylor Swift Relationship Wasn't Always Bad Blood
Stefanie Keenan/Gustavo Cabarello/Getty Images
A throwback video of Kim Kardashian has revealed that there was a time when Taylor Swift was one of her favorite singers, and Swift's song "Love Story" was one of her favorite songs. Yup, years before all of the beef between the two stars, Kardashian was a big fan of the singer. The video of Kim Kardashian on Taylor Swift was tweeted by Entertainment Tonight on Wednesday, Aug. 30, and get this... this interview was done in 2009 — the same year Kanye West interrupted Swift on stage at the VMAs in order to defend Beyoncé. Life comes full circle, fam.
In the video, the interviewer asks Kardashian, "What's the number one song on your iPod?"
Number one song on my iPod? Taylor Swift, 'Love Story.' I love Taylor Swift. I'm the biggest Taylor Swift fan. I'm watching her on Twitter. I just signed up for Twitter and I'm watching you, Taylor! Following.
Guys, this was when Kim Kardashian first signed up for Twitter. I can't even wrap my head around the irony of all of this, given that Swift and Kardashian's most common battlegrounds for their feuds are Snapchat, Twitter, and Instagram. This was before Kimye was even a possibility, before the Swift/Katy Perry feud, and before Swift had even started making pop music.
Ohhhh, Kim. If only you knew what the future had in store for you and Taylor Swift. Their ~famous~ feud all started over the song "Famous." Kanye's lyrics mentioned Swift in the song, and after it was released, Swift claimed to have no idea she was being included in the lyrics and said they were offensive.
Kardashian called bullsh*t on the "Bad Blood" singer by posting videos on her Snapchat story that showed West and Swift talking on the phone about the same lyrics Swift claimed to have no knowledge of prior. Kim's Snapchat revealed West actually asked for permission from Swift to include the lyrics in the song, and the rest is history.