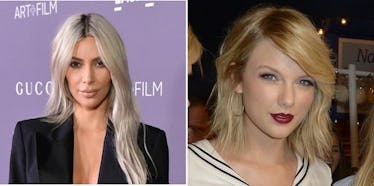 Kim K Actually Sent Taylor Swift A Valentine & The Video Is Unbelievable
Neilson Barnard/Gustavo Caballero/Getty Images
Kim Kardashian has been doing a lot of promotion for her new Valentine's Day perfume. She's been spending the week sending giant chocolate press boxes to all her favorite people, including Khloé Kardashian, Kris Jenner, and Taylor Swift. Wait, what? Yes, there's a video of Kim Kardashian sending Taylor Swift a valentine and we all feel a little confused.
Kim Kardashian's Kimoji Valentine's Day perfumes are themed after candy message hearts — they're bright, colorful, and adorable. The three selections to choose from include "Bae," "BFF," and "Ride or Die." While these will be available for the masses to order online, Kardashian created something very special for the press packages. Each perfume bottle will be mailed out in a gigantic candy heart made completely out of solid chocolate and filled with actual message candy hearts that say the name of the perfume. The entire package is tied together with a custom "KKW" mallet to break open the chocolate heart.
Kardashian has shown videos on her Snapchat of being involved with every step of the process. There was even video footage of the Keeping Up With The Kardashians star spray painting one of the chocolate boxes. This comes as no surprise — all the Kardashians (especially Kim) are very hands-on when it comes to their business.
On Feb. 1, Kardashian revealed via Instagram story that there were many more press boxes expected to go out. She had sticky notes with people's names written on them arranged by color. There were some familiar names of Kardashian's close friends and family listed — Paris Hilton, Cher, Chrissy Teigen, and Kendall Jenner were just a few.
However, fans quickly noticed a suspicious name on the list — Taylor Swift. Kardashian and Swift have been feuding since the beginning of time, if I'm remembering correctly. That's why it was so strange her name would appear on the press list.
This wasn't an oversight nor did the two squash their beef in some sweet way. Kardashian decided that everyone should get a Valentine this year whether you're a lover or hater of hers. She said in the video,
I am writing the list for my press boxes, and I'm going to send them to way more than this. But, I decided for this Valentine's Day, everyone deserves a Valentine. So I'm going to send them to my lovers, my haters, to everyone that I think of. Because it's Valentine's Day after all.
Welp, it looks like Swifty can look forward to a new "Bae" perfume. She wasn't the only controversial name on the list of receivers. A closer look reveals Blac Chyna, Bette Midler, Wendy Williams, Lindsay Lohan, and Chloë Grace Moretz — all people Kardashian has notoriously butted heads with.
If you remember, Kardashian put a few of the names listed above on blast during a Twitter rant on Mar. 8, 2016. That may seem like forever ago, but a Kardashian never forgets.
Let's start with actress Chloë Grace Moretz. After Kardashian posted a nude photo of herself with censor bars covering the unmentionables — Moretz took her thoughts to Twitter.
She said in two tweets,
@KimKardashian I truly hope you realize how important setting goals are for young women, teaching them we have so much more to offer than- ... -just our bodies.
Kardashian accused Moretz of "slut shaming" to which she defended herself saying that "'slut shaming' is something I have never done." That's when Kardashian shut things down during her Twitter rant on Mar. 8 by saying,
let's all welcome @ChloeGMoretz to twitter, since no one knows who she is. your nylon cover is cute boo
Ouch. That nude-ish photo Kardashian posted back then stirred up a lot of feelings for people — Bette Midler included. Midler said in a tweet after the photo was posted,
Kim Kardashian tweeted a nude selfie today. If Kim wants us to see a part of her we've never seen, she's gonna have to swallow the camera.
Do not come for Kardashian or she will come for you. Kimmy K clapped back so hard I think I fell over. She said,
hey @BetteMidler I know it's past your bedtime but if you're still up and reading this send nudes #justkidding
She wasn't done there. About 10 minutes after that tweet, Kim sent another that said,
hey @BetteMidler I really didn't want to bring up how you sent me a gift awhile back trying to be a fake friend then come at me #dejavu
It's instances like these that make me remember why Kim Kardashian DGAF anymore.
Honestly, the list of feuds, beefs, altercations, and slight annoyances could go on and on. It looks like now Kardashian is trying to kill 'em with kindness... or death by chocolate?
Check out the entire Gen Why series and other videos on Facebook and the Bustle app across Apple TV, Roku, and Amazon Fire TV.