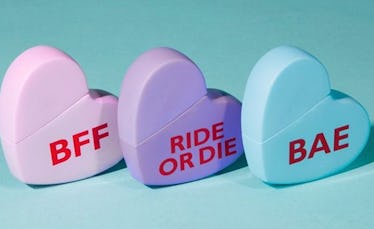 Kim Kardashian Sent Out Her New Perfume In The Most Extra Way & People Are Obsessed
Valetine's Day is rapidly approaching, which means it's the gift-giving season for these two timeless items: fragrance and chocolate. Well, Kim Kardashian West and her PR team aren't making beauty gurus choose which they'd rather have this Feb. 14: The KKW Beauty Kimoji Perfume reviews are in, and they're making consumers hungry for this new launch in every possible way.
In case you don't keep up with this particular Kardashian, Kim Kardashian West is having a bustling beauty year full of launches nearly every month. It seemed like only yesterday that we experienced the release of the KKW Fragrance Crystal Gardenia collection, which was Kardashian West's first foray into the wonderful world of fragrance. On the heels of her extremely successful first fragrance launch, KKW Beauty is topping itself by releasing a collection of fragrances that mimic candy hearts, just in time for V-Day.
The collection boasts three scents each housed in a heart-shaped bottle: BFF, Bae, and Ride or Die. BFF is definitely the scent of the millennial, containing notes of wild berries, star apple, pink rose petals, pear blossom, vanilla, marshmallows, and Cedarwood. It's soft and sweet AF, kind of like candy.
Bae comes in a baby blue bottle, and the fragrance is a little crisper, more citrusy, and sexier. The lightest of the lot, it's packed with notes of mandarin and kiwi, balanced out with the floral scent of Jasmine Sambac and gardenia blossom. Vanilla and velvet sandalwood round out the fragrance and complete the composition.
Ride or Die, the final fragrance, is the most delectable. It contains notes of blackberry, purple plum, jasmine, raspberry nectar, caramel, and tonka bean. It's truly good enough to eat.
The KKW Fragrance Kimoji Hearts collection launched Feb. 1 at 12 p.m. PT. Though consumers won't be receiving their packages for a few days yet, a few fashion and beauty influencers have been privy to a sneak peek of the launch. This PR package is quite possibly the coolest and most delicious fragrance package of all time.
Beauty bloggers are posting pictures of the white boxes containing giant chocolate hearts encasing the actual fragrances. Each package comes with a little wooden KKW-emblazoned mallet is used to break open the giant hollow chocolate heart to reveal the prize inside.
The chocolate seems super dense and super delicious. Just watch Allure's Editor in Chief, Michelle Lee, break open her baby blue Bae heart. It seriously takes a few strong whacks to even get the chocolate to crack. Inside the giant chocolate heart are a bunch of mini conversation hearts that match the fragrance and, of course, the fragrance itself.
Proud Momma Kris Jenner breaks open her KKW Fragrance PR package, removes the Bae fragrance from inside, and eats a sliver of the chocolate on camera, of course. You know Kris Jenner. She's forever the promo queen.
Kardashian West even revealed a behind-the-scenes peek into the impressive chocolate heart process.
Apparently, the press kits come in Bae, BFF, and Ride Or Die, but only Bae unboxings have been circulating around the interwebs.
On her Snapchat, Kim confesses that the candies are only for the press boxes and do not come with the fragrance. Since the perfumes cost $30 for 30 mL, it's no surprise that they arrive candy-less. Seriously, that chocolate heart alone definitely costs more than $30 to make.
The perfumes have barely launched and KKW Fragrance fans are begging Kim Kardashian West to sell versions of the fragrances with the PR packaging.
Some Twitter fans might be upset when they purchase their new fragrance, only to have it arrive in the mail chocolate-less.
It's no wonder that Twitter users are confused about how the KKW fragrance will arrive. The KKW Beauty Kimoji Fragrance reviews have only been about the PR packaging thus far. No one is really reporting on how the fragrances themselves smell.
Seriously, I'm afraid for all the fragrance lovers who will have their own big hearts broken when only the perfume arrives in the mail.
Well, at least you're hearing it here, folks. The fragrances do not come encased in giant chocolate hearts when you buy them from the KKW Fragrance website. I am so, so sorry to disappoint you.
Twitter user Bernadette really has the right idea. Seriously, where is my giant chocolate Kimoji heart? I'm starving.
Dr Evil here is asking all the right questions.
TBH, Dr Evil, we're not really sure either.
If you still want to snag the new Kimoji Hearts fragrances even without the chocolate, make sure to put it in your cart on the KKW Fragrance website at 12 p.m. PST on Feb. 1. Even without the giant chocolate heart, it's still a sweet deal.