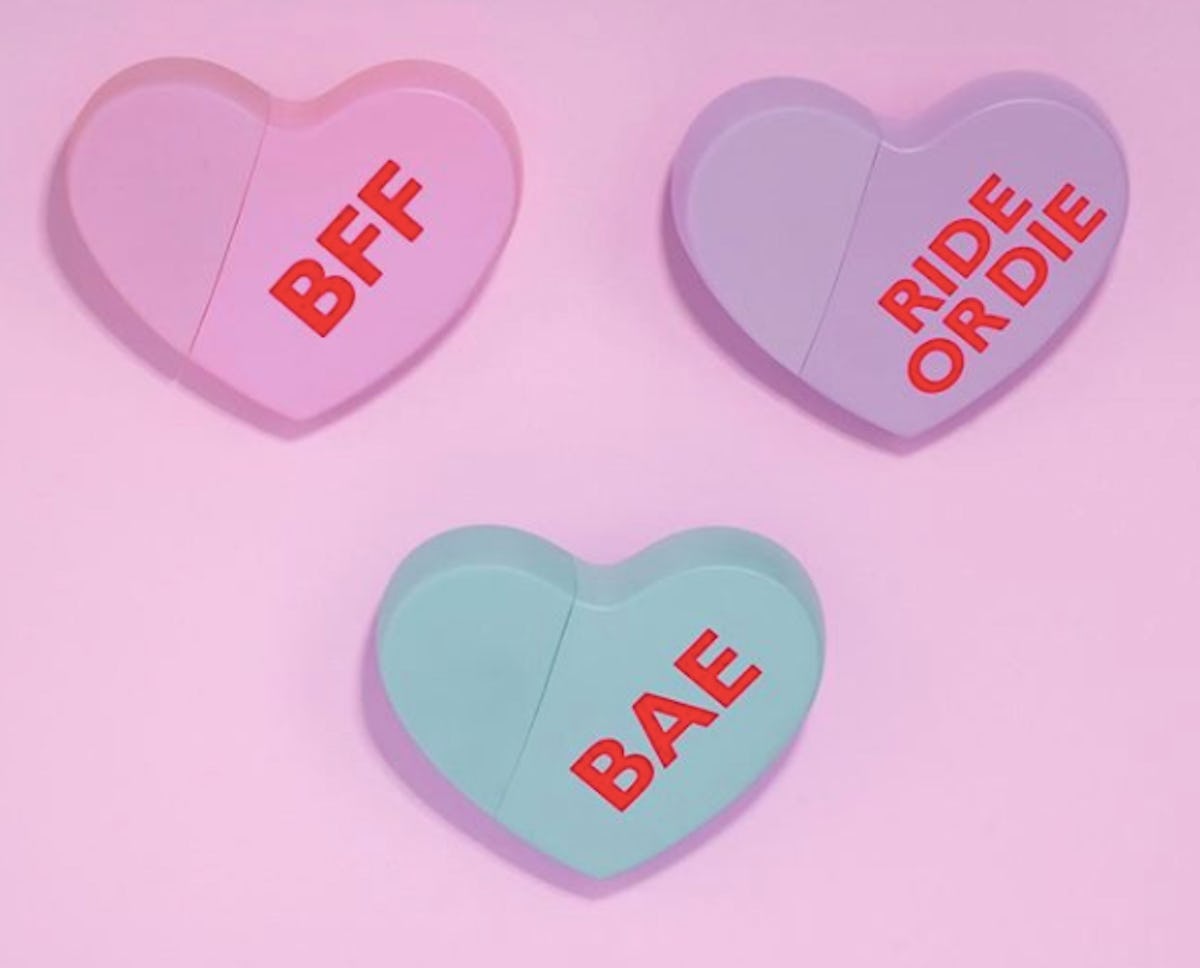 Kim Kardashian Is Dropping New Perfumes & They're So Different From Her Other Merch
My head is spinning with all of the Kardashian-related news and rumors of late. It seems like every day brings on a new pregnancy clue or product drop. Today is the latter, as Kim Kardashian West debuted photos of her newest perfumes, which are Valentine's Day-themed and so different from her first three KKW Fragrances. So, when do KKW Kimoji Heart perfumes drop?
Like I said, another day, another Kardashian-Jenner family member makes the headlines. This time it's my OG reality star wannabe BFF Kim Kardashian West. Kardashian West uses social media basically as an extension of herself, which is actually genius because it means she completely controls the information that gets out. Not that this particular revelation is as secretive as, say, is Kylie Jenner pregnant? I haven't been thinking about this all day every day for the past five months or anything...
Kardashian West used her personal page as well as the KKW Fragrance Instagram to announce three brand new aromas, and they're probably not what you thought they'd be like. Kardashian West's three previously released KKW perfumes were all variations of Crystal Gardenia scents. The bottles were each sleek crystal shapes and everything about the colors and packaging was very muted. Kardashian West's new Kimoji fragrances, however, are a bit more colorful, and slightly wordier. Are you intrigued? I hope so.
#Inspo
Kardashian West has actually been trolling the internet with inspirational images for her new fragrances for weeks. This first photo of candy hearts didn't really set off any major new product alert alarms, though. I figured she just had hearts in her eyes since the birth of her daughter, Chicago West.
"Soon," was all the KKW Fragrance account conveyed. At this point, I was living under the assumption that Kardashian West was cooking up some new crystal-themed perfumes. Spoiler alert: she wasn't.
Save The Date
KKW Fragrance gave the world a smidgen more information. At this point, the world knew that Kardashian West was dropping new fragrances on Feb. 1, 2018. Still, I thought, what new crystal gardenia fragrances will she bestow on us this time?
OK, so these will be some more colorful crystals this time around, huh, Kim? But if you think that a Kardashian is getting lazy and doesn't have some new tricks up her sleeve, then you don't know them like I do.
Qu'est que c'est? A purple heart? Is Kim really going to use, gasp, color? I mean look at all of the KKW Beauty products, the brand practically revolves Kardashian West's signature contour kits. The Ultralight Beam lip glosses and highlighters were a considerable departure from KKW's skin-toned products, but even they weren't exactly colorful, just v sparkly.
Well, color me wrong, literally. Kardashian West's new fragrances are a complete departure from her previous perfumes and KKW Beauty products. They're not exactly off brand, though. The adorable heart-shaped bottles are designed based on her personal emoji brand, Kimoji! Side note: I am obsessed with all things emoji and Bitmoji, my new life goal is to have a personalized emoji app.
Oh and to answer your question, Kim, yes, I will be your Valentine.
Kardashian West's three new Kimoji-themed perfume feature a pink heart with the phrase "BFF," a purple heart that says "RIDE OR DIE," and a blue heart reading "BAE." Since I don't know what these three fragrances actually smell like yet, I'm going to go ahead and say that the best part of these new products is the adorable phrases on each of the bottles. And FYI, Valentine's Day is not limited to having a romantic partner in your life. Pick up the BFF and RIDE OR DIE hearts for your closest squad members. And who says you can't be your own bae? Go get yourself that blue heart, you deserve it.
Twitter is already swooning over the trio.
Same, girl.
Again, same.
The Kardashians know how to brand like no other.
Here's hoping Kardashian West will reveal the scents, soon!
All three adorable heart-shaped bottles will be available for purchase on the KKW Fragrance website on Feb. 10, 2018. Mark your calendars!