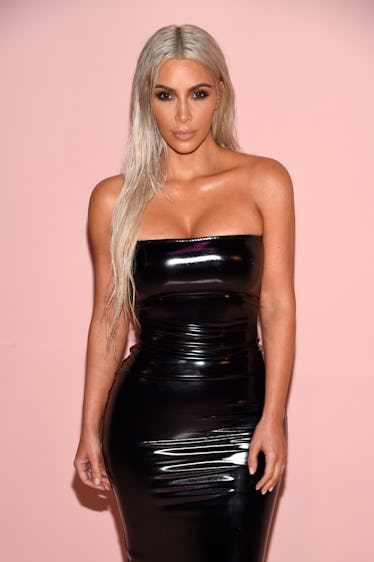 KKW Kimoji Perfumes Are 2005 AF In The Sweetest Way Possible
Dimitrios Kambouris/Getty Images Entertainment/Getty Images
When Kim Kardashian announced her upcoming beauty product drop, I got legitimately excited. I immediately found myself asking, "How much do the KKW Kimoji perfumes cost?" which, for me, is actually surprising. I am not someone who buys cosmetics online (much less fragrance), nor am I someone who has ever bought a KKW Beauty product before, but these new perfumes are so dang cute that I just might break my own shopping habits.
Kardashian's first fragrance launch happened in Nov. 2017, when she released three fresh scents: Crystal Gardenia, Crystal Gardenia Citrus, and Crystal Gardenia Oud. Packaged in chic bottles that looked like oversized frosted crystals (very apropos), they're stylish and trendy — exactly what you'd expect from the bonafide beauty mogul. They retailed at $35 for a 30ml bottle and $60 for a 75ml bottle, which, as far as fragrance goes, is relatively standard, if not slightly cheap.
While I think the bottles are beautiful and have no doubt each scent is lovely, I felt no desire whatsoever to purchase one of the Crystal fragrances. There was nothing special enough about them to pop out and grab me and my dollars with, and as a devoted Chloé Eau de Parfum user, I was already set with my favorite bottle of fragrance at home.
The new Kimoji perfumes, however, were a different story entirely.
Shaped like little hearts, each of the three scents comes in a unique pastel hue and has a different saying on its side. They're meant to look like the candy hearts you gave and received in grade school for Valentine's Day, which makes sense considering they drop on Feb. 1. As soon as I saw them I swear my eyes bugged and I internally screamed, "What are thoooose?" So. Dang. Cute. The best part? They're retailing for $30/ 30ml bottle, which is a $5 discount from Kardashian's previous release. In the perfume world, that's significant, and it also renders them affordable enough to be the perfect V-Day gifts for the greatest loves in your life, from your partner to your friend to yourself.
Named BFF, the first scent is the ideal gift for your galentine. It features notes of wild berries, crisp star apple, rose, pear blossoms, vanilla marshmallow, and cedar wood. If you're thinking, "Holy sh*t that smells super sweet," I'm with you. But isn't that kind of the point, the fragrances being for Valentine's Day, and all? Plus, I'm sure the notes come together and balance one another out beautifully — KKW knows what she's doing.
The second fragrance, called Ride or Die, is described by KKW Fragrance as "temptingly sweet, delightfully complex." It features notes of blackberry, purple plum, jasmine, raspberry nectar, caramel, and tonka bean. It honestly sounds like a delicious dessert, to be honest. It's definitely the perfect thing to wear out for a fiery night with your significant other.
Finally, there's Bae. Composed of notes of mandarin, kiwi, jasmine, gardenia, vanilla, and sandalwood, it sounds like the lightest scent of the three, and the one I'll likely go for once they go on sale.
It's important to note that KKW Beauty have not mentioned whether or not they will be restocking the fragrances if they sell out, so if you're dead set on getting one, make sure you hit up their website early on Feb. 1. (KKW Beauty products have a history of flying off the shelves.) Another thing to keep in mind is that the brand doesn't offer returns, so make sure you really *heart* the fragrance you choose before hitting purchase.
This is one sweet treat you don't want to miss indulging in.