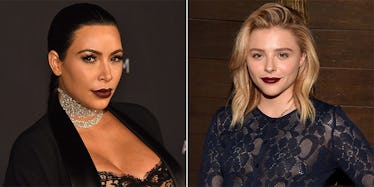 Here's The Reason Kim Kardashian Called Out Chloë Grace Moretz
Getty Images
Recent minimalist Kim Kardashian West got ferocious defending what's most important: those saucy, saucy selfies.
On Monday, the reality star shared a censored nude selfie online, joking, "I have nothing to wear LOL."
Young actress Chloë Grace Moretz replied to the 35-year-old's tweet, cautioning her of the presence of teenage followers.
When Kardashian West fans accused the 19-year-old of slut shaming, she insisted she "would never" do so.
Kardashian West kept her responses vague at first.
Eventually, though, she went for Moretz's sweet little throat.
Then, the mother of two sat back and sipped some Kimoji tea.
In the end, there are no winners in a Twitter feud.
The only one to make it out unscathed was Kween of the Universe Bette Midler, whose hilarity we shall treasure for a thousand years to come.
Midler tweeted a joke about Kardashian West's selfie earlier in the day.
Sure, Kimmy clapped back at her…
But Midler has two Academy Award nods and Diane Keaton's phone number. She doesn't need your or (anyone's) drama to gain exposure.
Thank you kindly, but no thanks.
Citations: Chloe Moretz Has Some Thoughts On Kim Kardashian's Naked Selfie, And Kim Is Not Here For Them One Bit (Cosmopolitan)