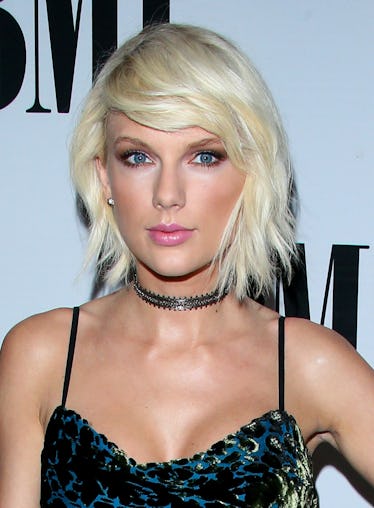 Here Are The Shadiest Lyrics From 'Reputation' For All The Taylor Swift Haters
Mark Davis/Getty Images Entertainment/Getty Images
There's a lot of love in Taylor Swift's new album Reputation... but there's also a lot of shade, too. Taylor Swift's shadiest Reputation lyrics are definitely giving fans a lot to think about. Who does Swift go after on her new album?
First up, in an essay in the Reputation lyric booklet, Swift writes:
When this album comes out, gossip blogs will scour the lyrics for the men they can attribute to each song, as if the inspiration for music is as simple and basic as a paternity test. There will be slideshows of photos backing up each incorrect theory, because it's 2017 and if you didn't see a picture of it, it couldn't have happened right?
Sure, most of the content on her album is all about boyfriend Joe Alwyn, but she does get some brilliant lines in that point to Kanye, here exes, and others.
Seeing as her feud with West has had its fair share of ups and downs, it's totally expected that there would be some mention of him on Reputation. If you recall, West included this lyric about Swift in his song "Famous": "I feel like me and Taylor might still have sex/ Why?/I made that b*tch famous." He claimed she approved it, she denied it, and Kim Kardashian presented the receipts in a phone call between Swift and West.
So, yeah, everyone was totally looking for mention of West in her latest release and she didn't disappoint. Check out Swift's shadiest lyrics.
"I Did Something Bad"
1. Swift seems to call West out in a number of lyrics. I think it's safe to say she's probably referring to him as a "narcissist" here:
I never trust a narcissist
But they love me so I play 'em like a violin
And I make it look oh so easy
'Cause for every lie I tell them, they tell me three
This is how the world works
Now all he thinks about is me
2. Clearly, someone talking sh*t about Swift and her having no regrets could be a dig at West:
If a man talks sh*t, then I owe him nothing
I don't regret it one bit, 'cause he had it coming
3. And here's where Kim K comes into the mix, with those "receipts" from the phone call about "Famous":
They're burning all the witches, even if you aren't one
They got their pitchforks and proof
Their receipts and reasons
They're burning all the witches, even if you aren't one
So light me up
"This Is Why We Can't Have Nice Things"
4. In "This Is Why We Can't Have Nice Things," Swift goes all in... and the lyrics are so revealing about West, including:
It was so nice being friends again
There I was, giving you a second chance
But then you stabbed my back while shaking my hand
And therein lies the issue
Friends don't try to trick you
Get you on the phone and mind-twist you
And so I took an axe to a mended fence
5. She also includes a reference to West losing Jay-Z as a famous friend:
But I'm not the only friend you've lost lately
If only you weren't so shady
6. And a reference to West's similar lyrics in "Runaway," but with a twist, including a line where she laughs at the idea of forgiveness. Savage.
Here's a toast to my real friends
They don't care about that he-said-she-said
And here's to my baby
He ain't reading what they call me lately
And here's to my mama
Had to listen to all this drama
And here's to you
Cause forgiveness is a nice thing to do
Haha, I can't even say it with a straight face
"Call It What You Want To"
7. Swift likely calls out Kardashian and/or Katy Perry as the "drama queens," and possibly West or Calvin Harris as "jokers." Ouch.
All the drama queens taking swings
All the jokers dressing up as kings
They fade to nothing when I look at him
"Getaway Car"
8. Swift appears to reference leaving Harris, while alluding to Tom Hiddleston with black ties at the Met Gala, where they met:
The ties were black, the lies were white
In shades of grey in candlelight
I wanted to leave him
I needed a reason
"King of My Heart"
9. The singer gets a dig in at the guys with fancy cars she dated (fans note that Harris drove a Range Rover and Hiddleston had a Jaguar) who can't hold a candle to her new love, Alwyn.
All the boys and their expensive cars
With their Range Rovers and their Jaguars
Never took me quite where you do
"Don't Blame Me"
10. Swift gets some major digs in with just a quick lyric here, throwing shade at exes Hiddleston, Harris, and maybe even John Mayer and Jake Gyllenhaal:
I've been breakin' hearts a long time and toyin' with them older guys
Just playthings for me to use
In a callback to the prologue she wrote, consider Swift's words: "We think we know someone, but the truth is that we only know the version of them they have chosen to show us."
Check out the entire Gen Why series and other videos on Facebook and the Bustle app across Apple TV, Roku, and Amazon Fire TV.