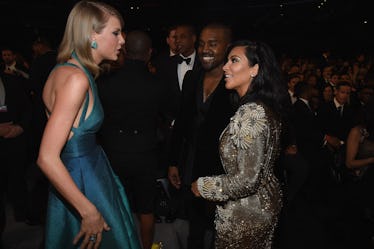 These Kim Kardashian References In 'Reputation' Prove Taylor Swift Isn't Forgetting Their Feud
Larry Busacca/Getty Images Entertainment/Getty Images
There's nothing like a good celebrity feud, and Taylor Swift is the queen of carefully crafted celebrity spats. In fact, she modeled her whole new album after the media persona that's developed of her, turning her nose up at the jabs taken at her over the past few years by calling her new collection of songs Reputation. Among one of her biggest celebrity enemies (celebremies?) is Kim Kardashian, so of course the first thing I did when Reputation finally dropped was hunt for every single bit of shade Swift threw at Kardashian. Let's break down Kim Kardashian references in Reputation.
Before we dive into the Reputation shade, it's helpful to get a brief refresher on the Taylor vs. Kim feud. As with many things, it all started with Kanye West. Back in 2009, West stormed the stage at the MTV Video Music Awards and interrupted Swift as she was giving her Best Female Video acceptance speech, grabbing the microphone to say that Beyoncé deserved to win the award for her "Single Ladies" video. This kicked off a highly publicized feud between the two, which is still very much thriving and apparent in Reputation as well.
When Kim Kardashian married Kanye West back in 2014, she also married into his Taylor Swift feud. Kim got involved last year. After Swift denied allowing West to reference her in his song "Famous," Kardashian posted a string of videos on Snapchat revealing that West had called Swift and read the lyric to her, and she had okayed it. After releasing the videos, Kardashian posted a tweet that most fans interpreted as a dig at Swift, referring to her as a snake.
Okay, now that you've been refreshed on the Swifdashian drama, let's get into all the digs at Kim that Taylor included in her new album. To be sure we get every drop of tea, let's go song by shady song:
​1. "...Ready for It?"
Though the song is mostly about a new relationship (presumably inspired by Swift's new boyfriend Joe Alwyn), there's also a reference to Swift's celebrity feuds in the lyrics when she sings "I keep him forever like a vendetta" in the first verse. Fans also think the nude bodysuit that Swift wears in the music video for this song might be a reference to Kanye West's "Famous" video, which included a wax figure of her naked body. Of course, "Famous" was the song that led to Kim and Taylor's big blow-up.
2. "End Game"
I sense some shade, ya'll. Although this song is definitely about a dude, there's a line or two that reference her reputation and the amount of rumors she's been through the past few years. This one, in particular: "Reputation precedes me, and rumors I'm knee deep. The truth is it's easier to ignore it, believe me." It sounds like she's "ignoring" the rumors that Kim may or may not have added to.
3. "I Did Something Bad"
Although the title of this song might make you think she's referring to the Kim crew, fans think she's actually singing about her ex, Calvin Harris. But despite the clear jabs at one of her famous exes, the bridge seems to be focused on Kim and Kanye. When she laments "they're burning all the witches, even if you're not one," she seems to be referring to the shift in public opinion of her after Kardashian posted those now-infamous Snapchat videos, which are likely the "receipts and reasons" she brings up in the next line.
4. "Look What You Made Me Do"
This was the song that Swift used to herald in her Reputation era, and it's also the song most packed with Kardashian-West shade from the album. "Look What You Made Me Do" is a not-so-subtle response to the Kanye and Kim situation that erupted after "Famous," and it seems pretty clear Swift is talking about the two stars when she says she's got a list of names "and yours is in red underlined." To make it even clearer, Swift seems to reference the "tilted stage" that West performed on throughout his Saint Pablo tour last year.
The clearest dig at Kardashian came with the music video, as Swift embraces the "snake" nickname that the reality star gave her by sitting on a throne and sipping tea while surrounded by snakes.
5. "This Is Why We Can't Have Nice Things"
OK, so this track basically screams "Kim Kardashian." There are a few lines in particular that subtly (or, I mean, not to subtly) call Kim and the crew out — and one reference about Gatsby stands out. The lyrics says "Feeling so Gatsby for that whole year." If you've been keeping up, you'd know that Kris Jenner threw a huge Gatsby-themed party in 2015. So, yeah, I'd say that lyric could be a jab. Another set of lyrics that ring some Kim Kardashian bells say "Friends don't try to trick you; get you on the phone and mind-twist you." EEK. Remember when Kim revealed a phone call between Taylor and Kanye regarding his infamous "Famous" lyric? Yup. That sounds like a good ol' reference. Brava, Taylor.
6. "Call It What You Want"
Although this track is mostly about Swift's new relationship with Joe Alwyn, she does start it off with some choice lyrics that seem to definitely be a dig at the Kimye drama. At the beginning of the song, Swift sings about a transition of power after she "brought a knife to a gunfight," a reference to her widely perceived "loss" against West and Kardashian after Kardashian posted the Snapchat videos. Later in the song, Swift sings about "jokers dressing up as kings," which is likely another jab at West and Kardashian.
You really can't deny there are some lyrics on this album that could point straight to Kim Kardashian West and her crew. Will she respond? Only time will tell.