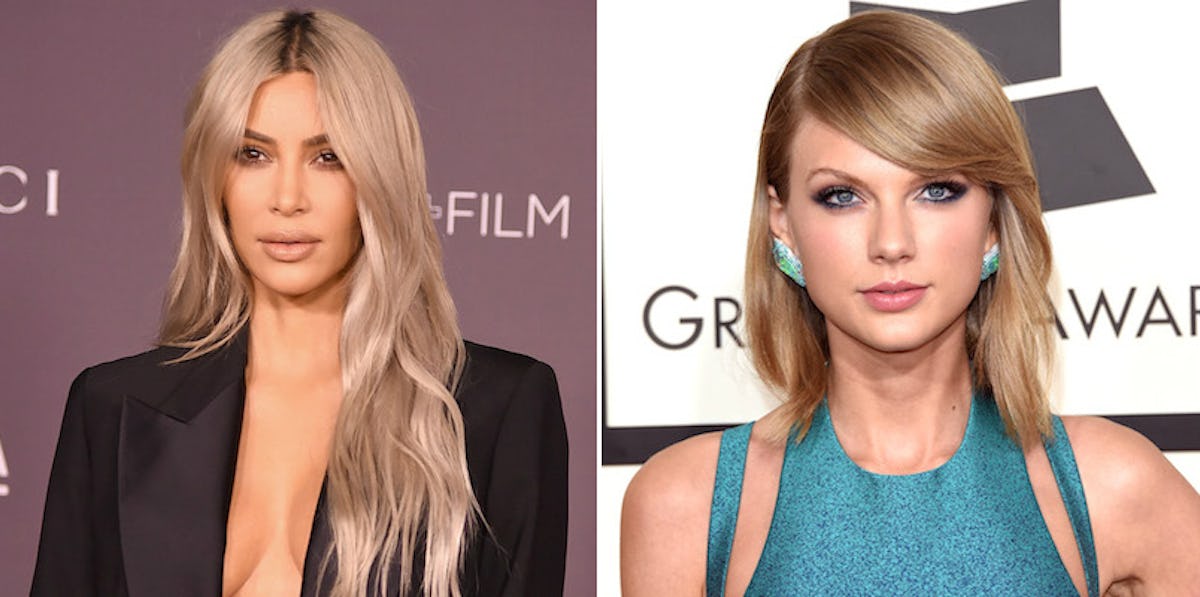 Kim Kardashian & Taylor Swift's Feud Was Set Off Again Due To This "Famous" Instagram
Kevin Winter/Jason Merritt/Getty Images
Here we go again. On Monday, Dec. 4, Kim Kardashian posted a photo on Instagram that Taylor Swift fans took as an act of shade toward Swift, so naturally, they're spamming Kim K's Instagram. Yup, Kim Kardashian and Taylor Swift's feud was set off again after Kardashian posted a throwback photo of her at Kanye West's "Famous" exhibit in August 2016, which featured the wax figures of celebrities featured in the music video. For context, this exhibit went down a month after Kim K exposed Taylor Swift on Snapchat for having known about the "Famous" lyrics, then lying about her knowledge of them after the song caused controversy. The "Famous" lyrics about Taylor Swift go:
For all my Southside n*ggas that know me best, I feel like me and Taylor might still have sex. Why? I made that b*tch famous (god damn). I made that b*tch famous. For all the girls that got dick from Kanye West, if you see 'em in the streets give 'em Kanye's best. Why? They mad they ain't famous (god damn). They mad they're still nameless (talk that talk, man). Her man in the store tryna try his best. But he just can't seem to get Kanye fresh. But we still hood famous (god damn). Yeah we still hood famous.
Taylor Swift fans have been spamming Kim K's Instagram with rat emojis after she posted this photo.
When their Snapchat feud went down in July 2016, both Kardashian and Swift's Instagram comment sections were flooded with snake emojis. Swift's fans were calling Kardashian a snake and vice versa, and Swift ended up reclaiming the whole snake thing as part of her marketing strategy for Reputation and also incorporated it into her Reputation merch. If you look through the merchandise on her website, you'll find snake rings, sweatshirts with snakes on them, snake keychains, snake pins, and even snake socks. It's a lot.
In the aftermath of that Snapchat feud and the flood of snake emojis, Swift blocked people from being able to comment with the snake emoji on her Instagram photos. A year later, Kardashian did the same thing after Swift announced the upcoming arrival of Reputation and her fans flooded Kardashian's comment sections with snakes.
Since they can't use snake emojis to troll Kardashian this time around, Swift's fans have decided to use rat emojis.
They've even started commenting rat emojis on Kardashian's other photos, not just the "Famous" one. Swift pretty much went MIA after Kardashian exposed her on Snapchat. It was during this disappearance from the public eye that Swift wrote all of Reputation, which we now know is an album full of references to her feud with Kim and Kanye. Swift's fans are using some of the lyrics from Reputation in their comments with the rat emojis, quoting songs like "This Is Why We Can't Have Nice Things." Some fans believe "This Is Why We Can't Have Nice Things" is about Kanye West and Kim Kardashian, but I personally believe it's about a former member of her squad.
It was so nice being friends again.
There I was giving you a second chance.
But then you stabbed my back while shaking my hand.
And therein lies the issue.
Friends don't try to trick you.
Get you on the phone and mind-twist you.
And so I took an ax to a mended fence.
But I'm not the only friend you've lost lately. If only you weren't so shady.
This is why we can't have nice things, darling.
Because you break them, I had to take them away.
This is why we can't have nice things, honey.
Did you think I wouldn't hear all the things you said about me?
This is why we can't have nice things.
Catch that "get you on the phone and mind-twist you" line? Fans took that as a blatant callout to Kanye West, who got Swift on the phone to talk to her about the "Famous" lyrics. And that "mended fence" line could be referencing the fact that before this Snapchat feud, the two musicians had resolved their beef that started when West pulled his whole "Imma let you finish" stunt at the 2009 VMAs. I don't know about you guys, but I'm so freaking tired of this feud.