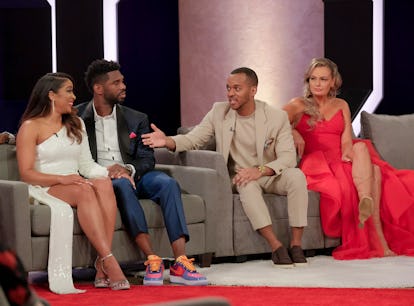 The Love Is Blind Season 4 Reunion Cleared Up These 7 Rumors
Everything from Kwame's sister to Paul and the bridesmaid.
Netflix
The Love Is Blind Season 4 reunion had a lot on its plate. Like, a lot. More than ever before, this season was a lightning-rod for messy gossip, online rumors, and unverified receipts. From Kwame's maybe-fake phone call to that eyebrow-raising TikTok of Paul, fans went wild with speculation about what scandals had been hiding just beneath the surface. Luckily, the Season 4 reunion special delivered when it came to clearing up all the major rumors.
The reunion provided a much-needed update on all the couple who said "I do" in the Season 4 finale — and in an encouraging turn of events, all three married couples are still together nearly a year after filming their weddings. Tiffany and Brett were a given, of course, but Zack and Bliss' relationship as well as Chelsea and Kwame's felt a much less certain. After confirming everyone who get married stayed together, the special dove into much messier territory: the rumors. Throughout the season, there had been tons of chatter about leaked texts, behind-the-scenes drama, and editing tricks. Here are all the biggest rumors that finally got cleared up in the reunion.
1. Kwame's sister was not a hired actor.
Kwame's sister Barbara stole the show at his wedding, so much so that some viewers thought she may be too good to be true. A rumor soon spread that she was actually an actor Kwame hired to make his wedding episode better. Of course, it was totally far-fetched, but Kwame did take the time to shut it down at the reunion. Yes, Barbara is his real sister, and she even hosted Thanksgiving for Kwame and Chelsea in Ghana after their wedding.
2. Paul didn't purposely touch the bridesmaid's butt.
One of the biggest scandals that erupted among the fandom after the finale aired was a zoomed-in clip of Paul walking past one of Micah's bridesmaids after their failed wedding ceremony. The viral video made it look like Paul had grabbed the bridesmaid's butt, but Paul clarified at the reunion that he was actually signalling for her to movie aside and accidentally bumped into her while exiting a room.
3. Jackie's leaked texts were real.
When the episode in which Jackelina and Marshall broke up aired, some alleged text messages started making the rounds online. Supposedly, the texts were from Jackie to a group chat with friends, in which she made potentially homophobic remarks about Marshall ahead of their breakup. It was never confirmed that the texts were real, until Vanessa Lachey brought them up in the reunion. Lachey and Marshall discussed the texts on air, verifying they really had been sent by Jackie.
4. Paul and Micah did briefly date after the show.
Fans already had a vague idea about how Paul and Micah's relationship would go based on an early TikTok spoiler. A fan claimed they ran into the couple shortly after filming, and they admitted they were keeping up appearances for the show. The reunion confirmed that Paul and Micah did briefly date after their failed wedding, but only for a very short time.
5. Jackie's date with Josh happened after she broke up with Marshall.
After receiving backlash for how quickly she moved on from Marshall to Josh, Jackelina posted a note claiming that Love Is Blind presented two key scenes in opposite order. She claimed that her breakup with Marshall happened before she went on her first date with Josh. Marshall confirmed that to be true at the reunion, but didn't see the significance of it, arguing that he was just as upset to see her start kissing Josh right after their breakup as if it happened beforehand.
6. Marshall and Kacia only went on one date.
Prior to the reunion, Marshall revealed that he did "try to make a relationship work" with another contestant, Kacia, after his breakup with Jackelina. But that "relationship" was much more short-lived than it sounded. At the reunion, Marshall revealed he only went on one date with Kacia before they called it off.
7. Bartise's baby is named Hayden.
One of the biggest Love Is Blind bombshells to happen during Season 4 didn't involve anyone from this season's cast. Season 3 star Bartise shocked the fandom when he suddenly revealed he had a son on April 7. So much about the baby boy is still shrouded in mystery, including his name, which fans had guessed was "Aiden" based on an Instagram video. But when Bartise and his son unexpectedly popped up on screen at the finale, he revealed his kid is actually named Hayden.