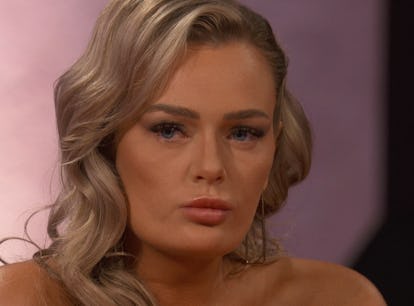 Micah Finally Gave Her Thoughts On That TikTok Clip Of Paul & Her Bridesmaid
She didn't say anything at the reunion, but now she's talking about it.
Netflix
Micah had a lot to say during the Love Is Blind Season 4 reunion, but there was one major moment that she noticeably didn't comment on. When host Vanessa Lachey brought up a clip of Paul and one of Micah's bridesmaids that had gone viral on TikTok days ahead of the reunion, Micah remained tight-lipped as Paul explained his side of things. But after the show, Micah finally responded to Love Is Blind TikTok that launched a thousand conspiracy theories about Paul.
Shortly after the big Season 4 finale dropped on April 14, eagle-eyed fans pulled out a suspicious-looking clip that quickly blew up on social media. After Paul rejected Micah on their wedding day, he followed her back to her bridal suite to try to further explain himself, but she swiftly demanded that he leave her alone. It was this brief moment of Paul exiting the building that caught fans' eyes. As he opened the door, it appeared that he touched Micah's bridesmaid Ruby on the butt. Once the clip was posted — with a giant arrow pointing at the incriminating butt-touch — it went viral.
Elite Daily caught up with Micah at the reunion afterparty to get her take on the clip. "I feel like people are reaching in so many different ways," Micah tells Elite Daily. "I'm not sure, I don't know what happened. I know Ruby never had those intentions."
Her response came after Paul asserted that the clip was being blown out of proportion during the reunion. "To imply that that was anything more than me just gesturing, acknowledging that I was squeezing past her and kind of bumped into her shoulder is literally absurd," Paul said when asked about the video. "Literally was just walking out the door and gesturing like, 'Hey, sorry I bumped into you.' That was it."
Whatever the case, the drama is totally over between Paul and Micah now. Paul admitted to Elite Daily that he's currently dating a new woman, while Micah revealed that she's currently single.
Additional reporting by Rachel Chapman.