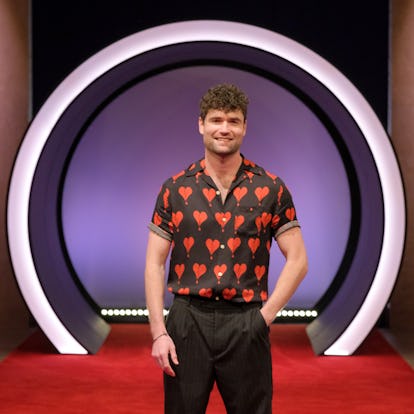 Paul Spills The Tea On His Dating Life Post-Love Is Blind
He's currently seeing someone 👀
Netflix
On Love Is Blind Season 4, Paul Peden opted to say "no" at the altar, leaving Micah Lussier and their relationship behind — or, at least, that's what it *looked* like happened. Following his "I don't," Paul followed Micah out of their wedding venue. At the time, he said he was still in love with her, and although she didn't want to speak to him then, the couple revealed that they reconnected later. So, what is Paul's current relationship status? He gives Elite Daily an exclusive update.
During the Season 4 reunion, Paul and Micah explained that they originally got back together after the show wrapped filming in the summer of 2022. However, their reunion didn't last long. Though Paul and Micah dated for a bit while she was in Seattle, when she went back to Arizona (where she lives part-time), Paul only visited once before they called it quits. "It ended pretty quickly after," Paul explained during the reunion.
Micah wasn't the only LIB contestant Paul re-connected with after filming. "There was another girl Wendi [Kong], the aerospace engineer. I talked to her a lot. I had an insane connection with her," Paul recalled to E!. (Wendi actually got engaged on the show, too, to Jimmy Forde, but it didn't air or work out between them.) Paul added that he and Wendi were "never exclusive, but went on dates." So, what went wrong? Apparently, they were a little too alike. "It's almost too much. I like myself, but I don't know if I like myself that much that I want to marry myself. We were really similar," he explained.
Paul's Love Is Blind love story might not have worked out, but he's since found another connection. Catching up with Elite Daily after the reunion, Paul spills more details on his dating life post-LIB. Apparently, the environmental scientist is currently seeing someone, "a girl from Canada" to be specific (though Paul doesn't give any names). He also exclusively opens up about his perspective on his and Micah's breakup. "I don't have any regrets about saying 'no' at the altar… That wasn't the right thing for us," he explains. Considering he's happily dating someone new, it's not exactly a surprise that he isn't holding onto any regrets about not getting married to his ex.
Paul hasn't shared anything else about his new romance — at least, not yet — but according to his Netflix bio, he's on the lookout for a specific type of partner: a "nurturing" and "granola" woman. Here's hoping he found what he's looking for — and that his mom gets along as well with his new girlfriend as she did with Micah.
Additional reporting by Rachel Chapman.
This article was originally published on