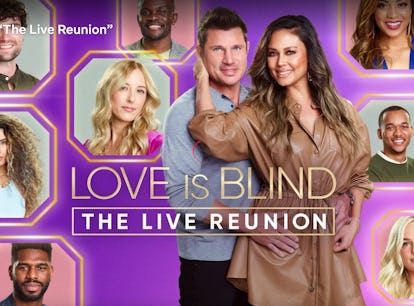 Finally, Netflix Has An Update About When You Can Watch The Love Is Blind Reunion
Love is... still loading.
Netflix
Love isn't just blind, it's also late. Very late. Every superfan of Love Is Blind excitedly tuned into the Season 4 reunion on April 16, only to be met with a seemingly endless loading screen. The live reunion was supposed to kick off at 8 p.m. ET, but viewers had to wait much longer than that to actually see the show. As time went on, Twitter was filled with thousands of tweets and memes about Netflix's frustrating Love Is Blind Season 4 reunion delay.
Netflix put a lot of emphasis on how the Season 4 Love Is Blind reunion would stream live on April 16 at 8 p.m. ET, making it the platform's second-ever live television event after Chris Rock's Selective Outrage special on March 4. That comedy special had a few delay issues, but it doesn't even compare to the massive wait Netflix hit Love Is Blind fans with. When the reunion didn't start right on time at 8 p.m. ET, Netflix tweeted out a promise that the show would just need 15 more minutes before getting started. But that didn't happen. As of 9:15 p.m. ET, the reunion episode still hadn't begun over an hour after it was scheduled to air and the streaming service tweeted that it would be available "soon."
Although some fans were able to hack the live stream by fast-forwarding the waiting screen, it wasn't failproof. Netflix finally tweeted late into the night that the full Love Is Blind reunion would be available at 3 p.m. ET. Hopefully, they mean it this time.
Fans who had been ravenous for all the delicious reunion drama flooded Twitter with their disappointment in Netflix throughout Sunday night and well into Monday morning.
The anger was extra intense considering how hyped the Season 4 reunion had been. The latest Love Is Blind season was filled with some of the dating show's best drama ever, from Jackelina and Marshall's explosive breakup to Paul and Micah's messy wedding disaster. Fans had been eagerly awaiting to see which couples that got married actually stayed together after the show or not — we're looking at you Kwame and Chelsea.
Sadly, the wait for the reunion wound up taking much longer than anyone had expected. As Sunday night carried on, Love Is Blind fans were hit with the realization they spent a full hour and change just staring at a loading screen. We will never see Nick and Vanessa Lachey's faces the same ever again.