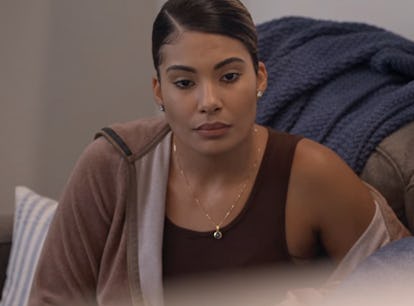 Jackelina's Reason For Dumping Marshall On Love Is Blind Was So Wack
This breakup seriously stung.
Netflix
Spoiler alert: This post discusses events up to and throughout Episode 10 of Love Is Blind Season 4.
Some Love Is Blind breakups are painful, but Season 4 hit fans with one that's straight-up devastating. Although Jackelina and Marshall seemed like a perfect match in the dating pods, their relationship nosedived real quick in the real world, and it crashed and burned in a spectacular fashion just days before they were supposed to get married. The reasons for the breakup only made it harder to watch, as Jackelina confessed she couldn't love Marshall due to her attraction to Josh. But that was only the tip of the toxic iceberg.
It became very clear very fast that Jackeline and Marshall were having issues. As Marshall doted on his fiancée with fancy breakfasts and deep, caring conversations, Jackie simply couldn't shake the fact that they didn't have the right chemistry where she thought it really mattered: the bedroom. A rift emerged after Jackie told Marshall to "be more aggressive. Like, boss up." Marshall left their shared apartment when Jackie said he wasn't a man, confessing to his castmate Brett that he thinks "she wants that toxic kind of love."
And Jackie found the kind of love (or, at least attraction) that she was looking for in Josh, her second choice from the pods. Jackie sent a message to Marshall loud and clear when she ditched her wedding dress fitting to reconnect with Josh instead. It all ended in one of the most uncomfortable and frustrating breakups in Love Is Blind history.
Let's go over all the reason why that breakup scene was so infuriating, shall we?
1. Jackelina ghosted Marshall.
Before they officially broke up, Jackie made her feelings known in the worst way possible: by not communicating. Marshall had to find out from Brett that Jackie didn't show up for her dress fitting, which spelled out for him that the relationship was over. If she wanted to end things in a healthier way, Jackeline should have at least given her fiancé the heads up she wouldn't be going to the fittings herself.
2. Jackelina said she wanted to move on from bad boys.
It's seriously cringe-inducing to rewatch Jackelina's time in the pods now. When she was deciding between Marshall and Josh, she told nice-guy Marshall that she typically goes for bad boys like Josh, but that she wanted to evolve past that toxic trait. That's the whole reason she decided to get engaged to Marshall... but evidently, old habits die hard.
3. Jackelina accused Marshall of needing security as if that's a bad thing.
The main reason Jackelina gave Marshall for their breakup was that the night after their tense distance at Chelsea's party, she didn't like how Marshall wanted to talk through their issues while she wanted to go to sleep. Clearly, Jackie just wasn't as invested in fixing things as Marshall was. She accused him of needing "a lot of security," which set Marshall off. "I have done nothing but right by you, and for you to sit here and say I require a lot," he shot back. "I'm emotional, yes. Have I encouraged conversation? Yeah ... [But] everything has always been on your terms."
4. Jackelina didn't tell Marshall she kissed Josh.
Yes, Jackie told Marshall that she was attracted to Josh and that she wanted to explore things with him, but she never actually told him just how close they got on their lunch date. The meet-up ended in Jackie and Josh kissing, which she didn't bring up at all in her breakup convo with Marshall. It seemed like an important detail to include, considering they were still engaged at the time.
5. Jackelina kept the ring.
This moment was truly unhinged! Marshall, understandably, asked for the engagement ring he gave Jackie back after they broke up. But she refused. "Well, I'm gonna keep the ring, because I accepted it because I wanted to marry you," she reasoned. Marshall let her keep it, but not without cursing it first: "Every time you look at that thing, whatever you do with it, I want you to be reminded that you passed up on something great."
6. Jackelina's final goodbye to Marshall was awkwardly casual.
The whole breakup ended with an exchange that was so awkward, it was actually kind of hilarious. As Marshall got up to back his things and leave for good, Jackie half-heartedly threw out a casual farewell: "Well, take it easy, and I'll see you around." A pissed-off Marshall wasted no time in shooting down the feeble attempt at pleasantry. "No, you won't," he replied.
7. Even Jackelina recognized she was making a bad choice.
After Marshall left, Jackie had a moment of clarity. "I don't even know if I'm going to be with Josh. I don't know If I'm going to be with anybody," Jackelina mused. "Damn, I'm crazy. I need to probably do some self-work." Yeah, that might be a good idea.