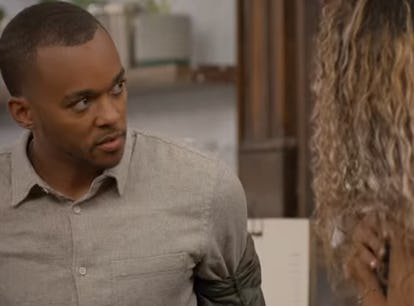 We Need To Talk About The Love Is Blind Fight That Came Out Of Nowhere
This couple changed up quick.
Netflix
Coming out of the dating pods, Jackelina Bonds and Marshall Glaze honestly felt like one of the strongest couples on Love Is Blind Season 4. Sure, they didn't have Brett Brown and Tiffany' Pennywell's grand love story, but at least they weren't full of red flags like all of the other pairings. That's what made their sudden conflict so shocking once they started living together outside the pods. Now, the couple that once seemed like they were going to float down the aisle may be saying "I don't" instead of "I do," and there are a few reasons why.
Spoiler alert: This post discusses moments from up to and throughout Episode 8 of Love Is Blind Season 4. Jackelina was pretty clear that her relationship with Marshall was a completely new situation for her. She admitted in the pods that she'd never really been in love before and that she always went for bad boys in the past. But Marshall definitely isn't a bad boy. He's the type of guy who will wake up super early to make pancakes with a strawberry and raspberry compote for his fiancée. (Seriously, that breakfast looked fire).
But berry-soaked pancakes couldn't sweeten up the issues just beneath the surface of this engagement. Things took a sudden turn when, seemingly out of nowhere, Marshall told the cameras that he had moved out of his and Jackelina's apartment. He recounted a fight in which Jackelina demanded he change his personality.
"The other night, she says that I needed to 'boss up,'" Marshall said. "The way that she made me feel in that moment, when she said that I wasn't a man, that I wasn't doing grown-man stuff, that hurts because I truly do genuinely love this girl. So I left."
Jackelina clarified that she wished Marshall could be more aggressive, especially in the bedroom. "I told him I wanted him to be more aggressive. Like, boss up. Switch it up," she shared, before cutting to a fight in which she yelled at Marshall, "We don't have sex, bro! We don't have sex."
It sounded like Marshall and Jackelina got along great in everyday life, but their sexual chemistry just wasn't there in the bedroom. Later, when the full cast reunited for Chelsea's birthday, Marshall confided in Brett that Jackelina wanted "somebody who will slap her around a little bit." "She wants that toxic kind of love," as Marshall put it.
As if on cue, jilted himbo Josh Demas decided to shoot his shot with Jackelina right then. Jackelina was heavily considering Josh in the pods, but ultimately decided to break her "bad boy" pattern by going with Marshall instead. Now that things have taken a nosedive with Marshall, will she decide to change her mind? Josh, who came off as incredibly rude and obnoxious at the party, and pancake-flipping, panic-attack soothing Marshall could not be more different.
The show may have presented Jackelina and Marshall's blow-up as a sudden thing, but Jackelina has shared that she was dealing with a lot of stressful family issues at the time of filming that caused her to break down. She wrote on Instagram that her father was battling cancer at the time, and she was feeling guilty she couldn't take care of him while on the show.
It sounds like a lot more factors went into this fight than were shown in the episoides, and it's not resolved yet. The penultimate batch of Love Is Blind Season 4 episodes will drop on Netflix on April 7, followed by the finale on April 14.