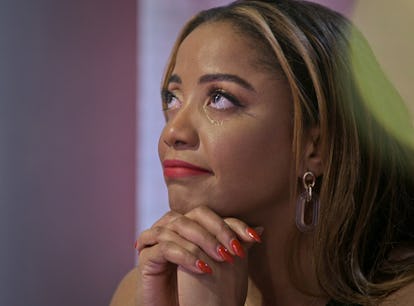 Tiffany & Brett From Love Is Blind Will Make You Believe In Love Again
Protect them at all costs.
Netflix
Warning: Spoilers for the first four episodes of Love Is Blind Season 4 follow. Some people are just too pure for reality TV, and Tiffany Pennywell and Brett Brown from Love Is Blind Season 4 might be two of them. They somehow manage to form a seemingly healthy relationship — based on mutual respect and consideration for each others' experience in the pods, if you can believe it! — despite the fact that they are behind a wall, even with all the scheming and plotting and props the other contestants bring to the table. To use a reality TV cliché, these two were actually here for the right reasons. If Tiffany and Brett's engagement on Love Is Blind doesn't melt your cold, cold heart, you might want to talk to someone.
Of course, this is Love Is Blind, and falling in love in the pods and swimming in a heated pool for two weeks does not make a marriage. Anything can happen between now and the walk down to Netflix's altar, and to be honest, the only acceptable reason these two can have for not getting married in the Season 4 finale will be that they deserve a much more extravagant wedding and celebration than Nick and Vanessa Lachey have to offer them. They deserve everything.
It didn't look great for a minute after Tiffany fell asleep (next to a bottle of Casamigos, it would be remiss to not mention) while Brett bared his soul about his vulnerabilities and feelings for her. Thankfully, Brett saw past this indiscretion, and watching Tiffany emotionally accept his proposal will bring a tear to your eye. It's listening to a Taylor Swift song after a breakup, heart-stopping stuff. And LIB fans area already obsessed with their relationship.
The vibes are so strong between them that as the other cast members express some qualms about their own relationships, both Tiffany and Brett, separate from each other, respond by simply shrugging and saying that they just don't feel weird or nervous about any of it. It's all good in their hotel room. Oh, to be so secure in love. Even fellow cast member Kwame Appiah says that he will "have an aneurysm" if Tiff and Brett don't make it because it would just be that traumatizing. On Instagram, right now, it could go either way.
Love Is Blind's Tiffany Pennywell's Instagram
Tiffany hasn't really posted on Instagram since November 2022, from Disney World with friends. But it's likely that she has been preparing for millions of fans to flood her page and has scrubbed some of her pics. The 27-year-old recruiter does follow most of her cast members, but not Brett. Which might mean that they are keeping it quiet for the finale or... the world has ended.
Love Is Blind's Brett Brown's Instagram
The good news is that Brett does follow Tiffany, so Instagram might not be the best indication of whether or not she marries the 36-year-old creative director. His Instagram is more up-to-date than hers at the time of writing, and it looks like he did a lot of traveling since filming wrapped in the summer of 2022. Hopefully, Tiffany was too busy lounging by the pool on these vacations to post pics, and they're still living the Love Is Blind dream.
The first five episodes of Love Is Blind Season 4 are now streaming on Netflix. Episodes 6-8 will air March 31, Episodes 9-11 will air April 7, and Episode 12 on April 14.