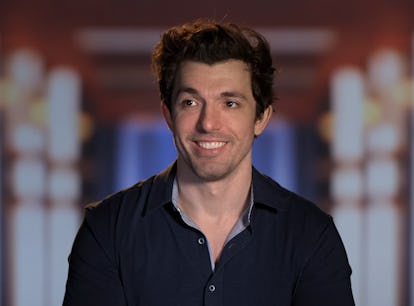 Zack's Singing On Love Is Blind Was Cringe, But His Other Hobbies Are No Joke
He just casually does jiu-jitsu, NBD.
Netflix
Love Is Blind is a magnet for bad decisions, and in Season 4, Zack Goytowski is taking the cake for making some of the most controversial choices in the game. He first introduced himself in the dating pods with a boldfaced lie, telling all the women that he was a stripper. Only later did he admit he made up that story to test how judgmental the other daters would be of adult entertainers. Since he clearly has no issue with bending the truth a bit, here's all the real info to know about Love Is Blind Season 4's Zack Goytowski.
After his first day in the pods, Zack came clean about his real job to one of his eventual matches, Irina. He's actually a criminal defense attorney, and although he partially regretted the stripper lie, he did have a reason for it. He opened up to Irina about how his mom had to work as a stripper for a period of time to provide for the family in a difficult situation. The vulnerable honesty connected with Irina, forming the basis of what would evolve into one of the show's more chaotic relationships.
Zack also impressed Irina by singing her an original song... although viewers were not as won over. The clip went viral on social media as people cringed at the performance.
But singing isn't really Zack's main hobby. He lives a very active life when not in the courtroom, full of travel, dancing, and even jiu-jitsu training.
Love Is Blind's Zack Goytowski's Real Job
As he said on the show, Zack works as a criminal defense attorney. He is based in Wenatchee, Washington, and often shares highlights of his professional career on Instagram.
Love Is Blind's Zack Goytowski's Instagram
Zack devotes the bulk of his Instagram to his various athletic hobbies. Along with recently earning his brown belt in Brazilian jiu-jitsu, Zack has also shared videos of himself kayaking, wake surfing, and swing dancing.
Love Is Blind's Zack Goytowski's Age
Zack was 32 while filming Love Is Blind. He has revealed on Instagram that his birthday is on April 2, so he will be turning 33 while his season of the show is airing.
New episodes of Love Is Blind Season 4 drop Fridays on Netflix.