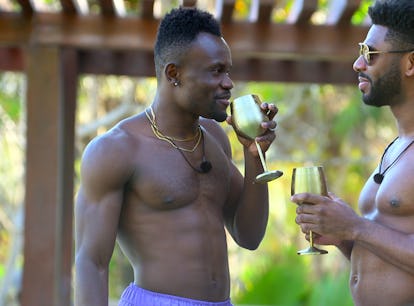 Everyone Wants A Piece Of Kwame Appiah In Love Is Blind Season 4
He needs to make up his mind though.
Netflix
Warning: Spoilers for the first four episodes of Love Is Blind Season 4 follow. The pods are back in business! Love Is Blind Season 4 opens the possibilities for a group of singles to not only find love, but likely get in trouble for their behavior throughout the process. Enter Kwame Appiah, one of the most sought-after single men in the pods, which means he's also Most Likely to Get Dragged — poor guy. Kwame forms two meaningful relationships in the pods, with Micah Lussier and Chelsea Griffin. He ultimately dumps Micah and proposes to Chelsea, but at the first pool party during the "honeymoon" with the other matched couples, Kwame sidebars with Micah about their experiences so far. The conversation goes on a little too long for the liking of their partners, Paul Pedon and Chelsea, who watch on rather aghast that they seem to be getting cozy enough to hold hands, swinging their feet over the poolside.
It doesn't look good when Episode 4 ends and the trailer for the remainder of the season shows that he and Chelsea, along with Micah and Paul, have some deep conversations about whether or not they made the right call. Kwame seems like a standup guy for the most part, so it will be fun for fans to watch his journey through the experiment. In the meantime, here's everything you need to know about the Love Is Blind Season 4 contestant; you decide whether he's there for the right reasons or not.
Love Is Blind's Kwame Appiah's Real Job
Kwame is a former pro soccer player, having played since high school and eventually going on to play for the Philadelphia Fury and the Delaware Stars. He coached some youth soccer before getting into sales and is currently the head of community development for a business platform called The Common Room, geared towards helping businesses connect to their market. It's worth noting that this business is based in Seattle, not Portland, Oregon, where he was based during filming. Did he make the move for Chelsea? It's possible.
Kwame also has a professional photography site where you can hire him to take professional wedding and event, headshot, or marketing pics. Also on Kwame's LinkedIn page? A stint as a server at the restaurant chain Ruby Tuesday and as an "associate" at an Apple Store back in the day.
Love Is Blind's Kwame Appiah's Instagram
Kwame is pretty active on Instagram, sharing selfies, pics from his travels, throwbacks to his soccer days, and even the occasional motivational reel. One thing of note is that he and Chelsea don't seem to follow each other, but he and Micah do. Is this a sign of trouble ahead?
Love Is Blind's Kwame Appiah's Age
At 33 years old, Kwame is smack in the middle when it comes to this group of singles' ages. Chelsea is just a few years younger at 31 years old and Micah is 27.
The first five episodes of Love Is Blind Season 4 are now streaming on Netflix. Episodes 6-8 will air March 31, Episodes 9-11 will air April 7, and Episode 12 on April 14.