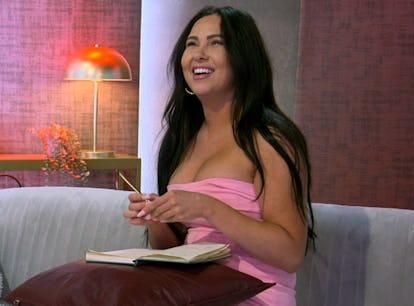 Irina Solomonova From Love Is Blind Is Honestly So Messy
And yet, so fun to watch.
Netflix
Forget the couples. One of the most fascinating relationships in the pods is the friendship between Love Is Blind Season 4 cast members Irina Solomonova and Micah Lussier. The two become fast friends as they simultaneously date the same men, curling up on the couches together to sleep and whispering about how they're planning on taking their relationships to the next level while side-eyeing the other women around the kitchen counter.
Warning: Spoilers for the first four episodes of Love Is Blind Season 4 follow. Meanwhile, Irina formed close relationships with a couple of men but connected the most deeply with Zack Gowtowski. In an intense series of events, Zack chooses Irina over another woman, Bliss Poureetezadi, who went so far as to make the man cupcakes for his birthday in the pods while Irina blatantly forgot. Still, Zack proposes to Irina, and Irina is triumphant, though Zack mopes about potentially having made the wrong decision. When Zack and Irina finally do first meet after their engagement, it's awkward, as if they both aren't sure what they're really doing.
Things only go downhill from there, with the first batch of four episodes ending with them sleeping on opposite sides of the bed at the "honeymoon" resort. It's clear Zack is still thinking about Bliss as he silently moves around her in their hotel room, and then Irina starts to imply the unthinkable: that she has a thing for her BFF Micah's match, Paul. Although Irina might not last in this Love Is Blind world, here are all the essential details about this delightfully messy villain.
Love Is Blind's Irina Solomonova's Real Job
On the show, Irina's job is listed as a business owner. Her company, Solo, was started in 2020, according to the website, and Irina explains in her bio, "Solo is a way to help create these experiences for people that they'll never forget. It wasn't just about a picture-perfect moment or the event, [it was] about the messy table at the end of a night, and the laughter shared in a safe space that helps you connect back to the people you love. That's the heart of life at the table, being together, celebrating [and] connecting back to who we are as being human."
According to Irina's LinkedIn page, she also currently works as a server at one of the JOEY restaurant locations in Seattle.
Love Is Blind's Irina Solomonova's Instagram
On Instagram, Irina cross-posts a lot from her company's page, showing off her party-planning skills. She also posts selfies now and again, and pics with her friends. Irina and Zack don't follow each other on Instagram, though she and other cast members are mutual followers. Interestingly, she and Paul follow each other, and she and Micah still follow each other. Clearly, whatever happened throughout the season might not have been as explosive as it looked.
Love Is Blind's Irina Solomonova's Age
Irina is 26 years old, which makes her just one year younger than her bestie Micah and five years younger than her fiancé, Zack.
The first five episodes of Love Is Blind Season 4 are now streaming on Netflix. Episodes 6-8 will air March 31, Episodes 9-11 will air April 7, and Episode 12 on April 14.