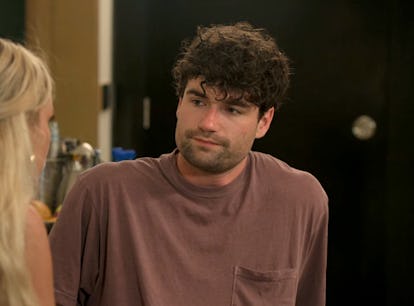 Paul From Love Is Blind Is The Ultimate Nature Boy
The way this man loves plants.
Netflix
Being cooped up in those dating pods is hard for every Love Is Blind contestant, but especially Season 4's Paul Peden. The environmental scientist is most at home in the great outdoors, so he was probably happier than anyone to get out of those pods and start relaxing in Mexico. OK, maybe "relaxing" isn't the right word to use — because right after proposing to Micah, Paul found himself in the center of a messy love triangle. As he tries to navigate his increasingly complicated love life, here's everything Love Is Blind fans should know about Paul Peden's real life.
Paul was one of the guys a number of the women had their proverbial eyes on at the start of the season, despite the fact that none of them could see him. His smooth talking and dorky charm made him a top choice for both Micah and Amber, but he ultimately decided to propose to Micah. The drama only escalated from there, as Micah's bestie Irina started getting flirty with him, all while Kwame's unresolved feelings for Micah had started becoming evident. Even if Paul is the drama-free guy he seems to be, he had just found himself trapped in the middle of the season's biggest mess.
At least he got to commune with nature a bit while this all went down. He brought Micah to a pool of catfish while in Mexico, emphasizing how much he loves to be around plants and animals. And that's very clear to see from his Instagram account, which basically looks like a fancy nature magazine.
Love Is Blind Season 4's Paul Peden's Instagram
Paul's Instagram feed is all nature, all the time. From close-up shots of colorful mushrooms to cute pics of the furry friends he finds on his hikes, it's clear Paul lives and breathes for flora and fauna.
Love Is Blind Season 4's Paul Peden's Real Job
As he revealed on the show, Paul is an environmental scientist. Specifically, he works as a policy consultant at Blue Environmental, which helps businesses ensure they have the right environmental permits, per his LinkedIn. He lives in Seattle, Washington.
Love Is Blind Season 4's Paul Peden's Age
Paul was 28 while filming Love Is Blind, but turned 29 before it began airing.
New episodes of Love Is Blind Season 4 drop Fridays on Netflix.