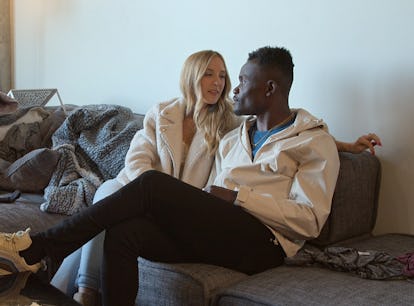 Love Is Blind Fans Found Clues Chelsea & Kwame May Still Be Together
They really proved everyone wrong.
Netflix
Spoiler alert: This post contains spoilers from the Love Is Blind Season 4 finale.
Chelsea and Kwame took every Love Is Blind viewers on a wild ride in Season 4. The embattled couple seemed to be on the brink of breakup pretty much every single episode, but somehow, they actually did wind up getting married in the end. Whether that was a good decision or not is up to the fans, but it does seem like their marraige has lasted after the show. Here are some of the clues pointing to Chelsea and Kwame still being together after filming Love Is Blind Season 4.
Chelsea and Kwame's wedding was definitely one of the most surprising ones to come out of this season. Fans were convinced Kwame was trying to weasel his way out of marrying Chelsea all season long, after he confessed his lingering feelings for Micah and emphasized just how much his mother didn't approve of the match. But after it was discovered that Kwame had auditioned for Married at First Sight years before Love Is Blind, it started to become more clear that he was very ready to say "I do."
Sure enough, the couple got married, but are they still together almost a year later? They tried to hide their relationship status on Instagram, but superfans have closely analyzed their posts for clue. For instance, a video Chelsea posted singing to her nephew back in November had commenters squinting to try to catch a glimpse of a wedding ring. People also thought they could hear Kwame singing along in the background for a split second.
But the biggest clue actually came from fellow contestant Zack's Instagram. As spotted by Entertainment Tonight, Zack shared a video in March of himself on a boat with Kwame. Noticeably, there's also a woman on the boat with them, whose hands are briefly seen setting out some glasses.
That same day, Chelsea showed off her lavender puffer jacket on her own Instagram, which exactly matches the sleeves shown in Zack's story.
It's not hard proof that the couple is still married, but at least it shows that they're still in a place where they hang out together.