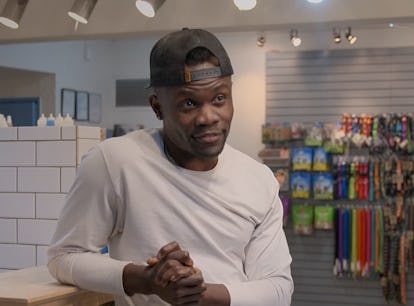 Kwame From Love Is Blind Was On Another Marriage-Based Reality Show 4 Years Ago
He's been ready to get married on TV for a while.
Love Is Blind is a strange new type of dating experience for most contestants, but one Season 4 star is already familiar with finding a spouse on reality TV. Yep, as it turns out, Kwame Appiah has a bit more experience in the dating shows world than viewers initially realized. As fans watched the former soccer star's roller-coaster romance with his new fiancée, Chelsea, some TikTokers spotted Kwame in an old episode of the very similar series Married at First Sight. The clips reveal that Kwame has been turning to reality shows to try to find a wife for several years at this point.
Kwame's had a particularly rough go of things in the first half of Love Is Blind. Although he did manage to get engaged to Chelsea, their relationship has some serious problems — not the least of which is Kwame's lingering feelings for his other close connection from the pods, Micah. And fans only grew more sus when old footage of Kwame on a 2019 episode of Married at First Sight resurfaced on social media. The viral TikTok clip shows Kwame in the Season 10 premiere of the Lifetime series, in which relationship experts paired up singles who agreed to marry one another upon first meeting.
Ultimately, Kwame wasn't chosen to be in one of the five couples that Season 10 followed, so he is only seen in brief background shots in the first episode.
Notably, Married at First Sight shares the same executive producers and casting department as Love Is Blind, which means that Kwame was likely asked to be on the Netflix series by the same team that remembered him from Married at First Sight. And now he has his second chance at finding his wife... while also making some messy reality TV. At least he made it past the first episode this time around — only time will tell if he can make it all the way to the altar.
New episodes of Love Is Blind Season 4 drop Fridays on Netflix.