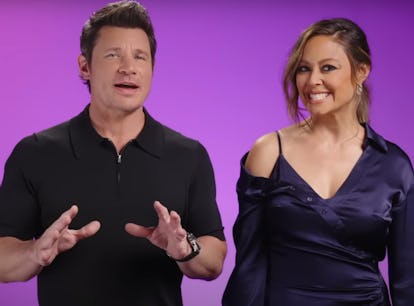 So, The Love Is Blind Reunion Will Be *Live* For The First Time
Netflix
A messy Love Is Blind cast deserves a messy reunion, which is why Season 4's post-show get-together is taking the drama to an entirely new level. For the first time ever, the reunion episode will be airing live on Netflix, so truly anything could happen. Here's when you should log onto Netflix to catch the live Love Is Blind Season 4 reunion.
The Season 4 cast is definitely going to have a lot to talk about when they get back together, from drama in the pods to addressing the biggest question of all: Who stayed together and who broke up? And the reunion promises to deliver more juiciness than ever before, because it will air live on Netflix. Unlike past reunions, Netflix isn't pre-taping the cast's tell-all with hosts Nick and Vanessa Lachey for Season 4. The reunion will stream live on Netflix on Sunday, April 16 at 8 p.m. ET, two days after the season's finale episode airs on April 14.
Nick and Vanessa dropped the big announcement in a teaser video on April 4, promising a whole new kind of reunion episode.
Fans may have some questions about the logistics of this livestream, since Netflix has only streamed one live event prior to this Love Is Blind reunion. On March 4, Netflix premiered Chris Rock's comedy special Selective Outrage with a live release. In case you missed it, viewers can enter a waiting room for the Love Is Blind Season 4 reunion beginning at 7:50 p.m. ET, or join in anytime as the live event airs, just like any other livestream. The reunion episode will remain available to stream on Netflix after it streams live, too, so no worries if you can't tune in right at 8 p.m. ET.
Season 4 of Love Is Blind has no shortage of drama to address in its unprecedented reunion, from a groundbreaking engagement first to lots backlash directed at specific contestants and their friends. Oh, and there's the discovery that one of the contestants was on Married at First Sight a few years before proposing on Love Is Blind.
Find out what really went down after the climactic weddings when the Love Is Blind Season 4 reunion airs live on Netflix on Sunday, April 16 at 8 p.m. ET.