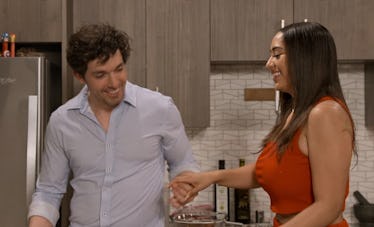 Zack & Bliss Made Love Is Blind History By Breaking All The Rules
They're kind of iconic for this, NGL.
Netflix
Spoiler alert: This post contains spoilers from up to and throughout Episode 8 of Love Is Blind Season 4.
Love really is blind on this season of the Netflix dating show, or maybe it's just Zack, who couldn't seem to see the red flags while in the dating pods. His questionable decision-making did end up making him a part of reality TV history, though, as he became the first Love Is Blind contestant to get engaged twice while filming the series. A similar situation happened at the end of Love Is Blind: Brazil's first season, but it was nowhere near as groundbreaking as Zack fully jumping from one engagement to another in the span of a few days.
Pretty much everyone but Zack could see that Irina was not the perfect match for him, and despite his connection with Bliss in the pods, he chose to propose to Irina. His mistake was immediately obvious when they two finally met face-to-face. Irina didn't make it a secret that she wasn't attracted to Zack, and they spent all of Mexico at arms-length. Rather than showing any affection for one another, they actually traded little insulting jabs for most of the trip. They finally called it quits at the end of the vacay, but Zack wasn't done with Love Is Blind just yet.
Rather than exit the show, Zack reconnected with Bliss in Seattle, and she warily agreed to give him a second chance. After an awkward dinner date where Zack ruined the steaks he was trying to cook and a nostalgic boat ride where the '90s kids reminisced about Furbies and Gremlins, Zack got on one knee and popped the question. And Bliss said yes.
This was totally new territory for Love Is Blind. In past seasons, once a contestant failed to get engaged or ended an engagement, they left the show. The only other time something somewhat similar happened was in Season 1 of Love Is Blind: Brazil, when Nanda revealed at the reunion that she had left her ex Thiago for another contestant, Mack, who proposed to her at the end of the show. But that second engagement happened after filming for the season was done, and viewers never got to really see their love story play out. Zack's situation is much different, as he's still in the experiment engaged to Bliss after initially getting engaged to Irina in the experiment.
Zack and Bliss may have found their second chance at love, but is it too late for them to make it to the altar by the season finale? Find out as new episodes of Love Is Blind Season 4 drop Fridays on Netflix.