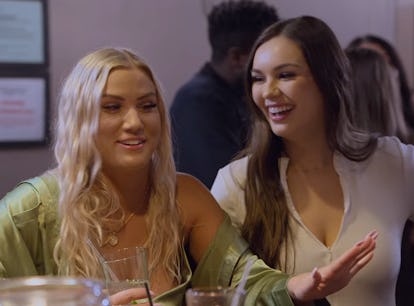 Micah From Love Is Blind Has The Worst Friends Ever
Wait, why do they hate Paul again?
Netflix
The Love Is Blind experiment has been a rocky one for the Season 4 couples (well, except for Brett and Tiffany), and things only got more complicated when families and friends entered the mix. Paul and Micah actually managed to impress each other's parents, but the whole vibe shifted when they met up with Micah's friends. Let's just say, Micah's BFF Shelby did not come off very well when she first met Paul, and these tweets and memes about Micah's friends underline just how confused Love Is Blind fans are about her sudden outburst.
In Episode 8, Micah brought Paul along with her to her best friend Shelby's birthday party at a bar as a way to introduce her friends to her new fiancé. It wasn't too bad at first, although Micah did drop some pretty troubling details about Shelby, revealing that she had broken up Micah's relationships in the past. Then, things took such a sudden and unexpected turn that viewers got whiplash. Shelby took offense at Paul's more articulate and scientific way of explaining things for some reason, and she decided he wasn't right for Micah. Paul tried to shut Shelby down by saying he didn't care what she thought, but that only made the situation more intense.
Eventually, Paul just had to walk away from the group, leaving Shelby to break down in tears while telling Micah that she deserves better than Paul. The whole reaction felt like it came completely out of nowhere, since Paul wasn't really shown to do anything offensive that night. Fans were left with a bad taste in their mouth when it came to Micah's friends.
A lot of viewers pointed out the similarities between Shelby and Micah's other controversial bestie from the dating pods, Irina.
Others developed a more twisted theory about Shelby and Micah's relationship, wondering if Shelby's intense feelings for Micah could actually be love.
The scene was especially jarring since it came right after a scene of Tiffany introducing Brett to her friends. Unlike Micah's friends, Tiffany's squad was incredibly supportive of her engagement and gassed her up the whole dinner.
So, it looks like Paul and Micah have yet another roadblock sitting in the way of the wedding aisle. Could Shelby even be so bold as to object to the pair's marriage if it comes to that? She seems to live for the drama, so don't put anything past her.
New episodes of Love Is Blind Season 4 drop Fridays on Netflix.