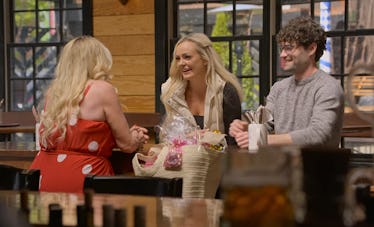 Paul's Mom May Be The Biggest Love Is Blind Twist Of The Season
Love isn't all that blind, after all.
Netflix
Paul and Micah didn't initially seem like they'd work as a couple. He's a relatively quiet environmental scientist, and she quickly became the center of all the drama. They came off as polar opposites, but everything about their connection finally clicked when Paul introduced Micah to his mother. The revelation was just as shocking to fans as it was to Micah, and memes about Paul's mom on Love Is Blind Season 4 took over social media.
As expected, the meet-the-parents episode was full of surprises, but the biggest shock of all was how similar Paul's mom was to his fiancée, Micah. Fans were not expecting to see Paul sit down to lunch with a glamorous blond woman in a giant sunhat, who formed an instant bond with Micah. And it's clear why. Even the two women themselves couldn't ignore the Freudian implications. "There's so many times where Paul and I have been like, 'We're so different, I wonder why we're so attracted to each other.' And it's like, well, here ya go. You're marrying your mom," Micah mused.
A paralegal from Louisiana, Paul's mom also proudly brandished her social media sleuthing skills, revealing that she had learned several details about Micah's personal life and family just from Paul telling her his fiancée's first name.
Viewers were shocked at the unexpected similarities between Paul's mom and Micah.
While Paul and Micah may have impressed each other's families, their friends were another story. Micah's friends immediately hated on Paul when Micah introduced him to them at a bar. It wasn't exactly clear why Micah's closest friend Shelby was so intent on tearing Paul down, but it did seem to affect Micah. She insisted Paul make an effort to befriend Shelby, but after realizing that would go nowhere, Paul simply said he didn't care what Micah's bestie thought of him.
Yeah, it was a bit messy, and friendship drama is only one of this couple's problems. They also can't seem to agree on where they'll live after getting married, and Micah is still juggling a sketchy possible-flirtationship with her second choice from the pods, Kwame. It's unclear if Micah and Paul will make it to the altar, but at least we know Paul's mom won't be objecting to the marriage.