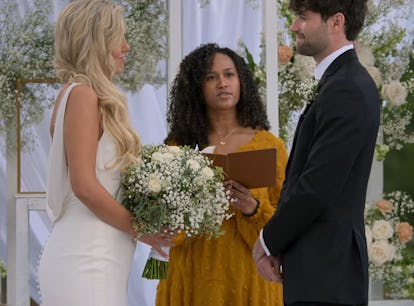 Looking Back, There Were So Many Clues About Paul & Micah's Love Is Blind Wedding
Raise your hand if you were surprised.
Netflix
Spoiler alert: This post contains spoilers from the Love Is Blind Season 4 finale.
For every true love connection that comes out of Love Is Blind, there are about four horribly toxic pairings that just never should have happened. Still, just because a couple seems so obviously wrong for each other, it doesn't mean they won't get married in the end (I'm looking at you, Kwame and Chelsea). But surprisingly, for how chaotic Season 4 was, there was only one duo who decided to break things off at the altar, which was probably for the best. It was also not the biggest surprise in the world. Love Is Blind Season 4 had so many clues Paul and Micah wouldn't get married, and they're clearer than ever looking back after that finale.
Paul and Micah weren't exactly the worst relationship of the season — Jackelina and Marshall easily won that title — but their connection never felt all too real, and they put up a ton of red flags along the way. Micah's bullying antics in the pods immediately seemed like the exact opposite of Paul's soft-spoken, drama-free vibe, but seemingly out of nowhere, they suddenly got engaged. After weeks of blandly asserting their love for one another while ignoring the glaring issues in their relationship, it was no wonder Paul finally decided he and Micah were better off not getting married. Although Micah was heartbroken by the "I don't," deep down, even she must know that getting married to Paul would not have been the right thing to do.
Many viewers were able to predict this outcome well ahead of time, because there have been so many moments in Season 4 pointing to Paul and Micah's eventual breakup.
1. Their Way-Too-Sudden Pod Connection
At the start of the season, Paul was going strong with Amber and Micah seemed all-in on Kwame. Then, almost out of nowhere, Paul and Micah agreed to be exclusive with one another. From what was shown, this decision felt incredibly sudden, since not many of Paul and Micah's conversations had aired. How exactly did this abrupt change of heart come about?
2. Their Opposite Personalities And Lifestyles
Yes, we all know that opposites attract, but do they really in the case of Paul and Micah? Fans online just couldn't buy that the unmaterialistic nature-loving scientist could really have much in common with a clothing-obsessed partygirl. Paul's explanation for their connection was always to repeat the same thing about how they both "see the world in the same way." Clearly, they couldn't come up with anything better than vague jargon.
3. They Stayed Separate In Mexico
Fans also pointed out that the post-pod Mexico episodes barely showed Paul and Micah interacting with each other at all. For Paul, the whole vacay was mainly bro time with Zack, or awkward flirting with Irina. Whereas Micah was shown flirting with Kwame more than with her actual fiancé.
4. Micah's Interest In Kwame
Speaking of Micah and Kwame, it was telling that she continued to foster their lingering connection from the pods while with Paul, both in Mexico and at Chelsea's birthday party. Even worse, Paul and Micah never really addressed the Kwame situation between themselves. The communication skills are truly at an all-time low.
5. Micah's Friends
It felt like there was no greater force driving Micah and Paul apart than Micah's BFF Shelby. When she vocally disapproved of Paul after Micah affirmed that she really takes her opinions to heart, it pulled Micah away from him a bit. Likewise, when Paul was insulted and ostracized by Micah's friends, it gave him a repulsive insight into Micah's real everyday life.
6. Their Different Ways Of Communicating
Communication is key to any successful relationship, which is why Paul and Micah's was DOA. Micah's casual, colloquial way of speaking just never really gelled with Paul's stilted, scientific focus on data, logistics, and probability. Viewers called out how some of Paul's questionable statements betrayed his hesitance in the relationship, like when he said Micah "meets the minimum requirement for the perfect woman."
7. Their Living Situation Conflict
Just on the practical side of things, one of the main reasons Paul might not have wanted to go through with the wedding was because he and Micah never settled on where to live. Paul was comfortable in his Seattle apartment, but Micah argued the space was much too small and instead insisted they move to Arizona. Obviously, that's a huge life change, and one they never actually resolved before walking down the aisle.
8. Paul's Mommy Issues
Micah called out the problem right after she met Paul's mom: "You're marrying your mom," she exclaimed. Sure enough, Paul's mom was surprisingly identical to Micah, both in looks and personality. That might've explained why Paul was drawn to Micah in the first place, but it sure didn't inspire a ton of confidence in their relationship lasting.
9. Claims From Past Contestants
Something that really got fans to scrutinize Paul and Micah much more wasn't from the actual show, but from past Love Is Blind contestants Natalie Lee and Deepti Vempati's recap podcast Out of the Pods. In one episode, Lee asserted that Paul and Micah were faking their connection for the cameras, claiming to have secret sources that confirmed this to her. Micah denied these claimed, but that wasn't enough to keep fans from guessing that there wouldn't be a wedding for these two. And sure enough, Paul and Micah's non-wedding ended in a dramatic breakup.