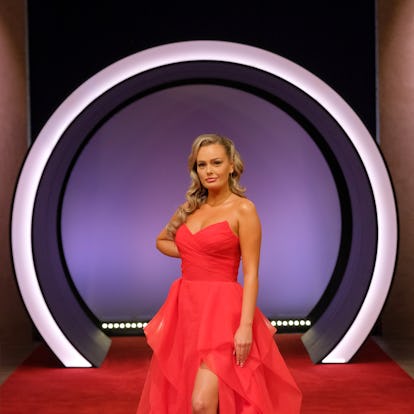 Micah Reveals Her Relationship Status Post-Love Is Blind
She and Paul actually tried to make things work again.
Netflix
Spoiler alert: This post discusses events from the Love Is Blind Season 4 reunion. Micah Lussier may not have found the one on Love Is Blind, but that doesn't mean she gave up on love at the altar. After her failed wedding to Paul Peden, which was filmed in the summer of 2022, the two tried dating again — but their rekindled relationship relationship didn't last long. So, what's Micah's relationship status now? She tells Elite Daily the latest.
ICYMI, there have been several internet rumors surrounding Micah's dating life that she has yet to address. In August 2022, she posted a several TikTok videos documenting her travels around Europe, to places like Santorini and Paris. Most of the clips only showed her by herself, but there were quite a few hints that she was actually on the romantic trip with a male friend — including a pair of plane tickets and a restaurant table set for two. The real kicker is a split-second in which a man's hand is pouring a sauce over her meal.
In Micah's video about her Paris trip, the comments section was quick to weigh in. "You definitely went here with Paul," one fan guessed. "[Micah and Paul] could have just continued dating!" another wrote.
So, was this person a friend, or maybe more? And who were they, exactly? During the Love Is Blind Season 4 reunion, Micah and Paul admitted to reuniting briefly post-show, but they didn't give exact dates of their relationship. So, maybe he was her mysterious traveling companion?
Whether she was with Paul or someone else, whatever connection she built on the European getaway didn't last. Asked by Elite Daily about her current status, Micah replies, "Currently single." She also wishes more of her and Paul's sweet moments had been aired. "I wish there were more conversations shown between Paul and I," she says. "I wish people were able to see why we fell in love and a little bit more of our love story. But it is what it is, and I'm just happy that it's time to move forward."
Additional reporting by Rachel Chapman.
This article was originally published on