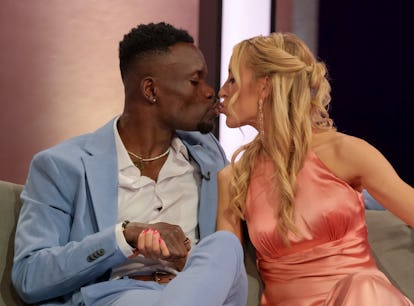 Everyone On 'Love Is Blind' Thinks Kwame & Chelsea Deserved A Better Edit
They skipped events to hang in their cabana...
Netflix
If you watch reality TV, you know that editing almost always plays a part in how the cast is portrayed and Netflix's Love Is Blind is no different. With all of the couple-swapping this season, it's no wonder that the Season 4 cast feels like some of their relationships and their experiences overall got the short end in post-production. They were super messy, after all. After the Love Is Blind reunion watch party on April 16, while the rest of us were waiting patiently for the live stream to actually work, Elite Daily's Rachel Chapman caught up with the cast on the red carpet to see what un-aired moments from the season that fans had gotten to see to give more context to their relationships (and respective breakups).
To no one's surprise, almost all of the couples and singles said that they wanted people to see more of their more intimate conversations. Bliss Poureetezadi tells Elite Daily that she wished fans got to see more of her and Zack Gpytowski's dates once they were back in Seattle. Although the season included some of their meetings post-pod life before the wedding day, she says that there were many more encounters during the pod dates, and after, that might have helped the audience understand why she took him back and ultimately decided to get married to him.
But maybe most surprisingly, many of the cast members rallied for happily married couple Kwame Appiah and Chelsea Griffin. Everyone seems to think got the worst editing out of the entire bunch. Zack defended Kwame against fans who thought that he and Chelsea weren't vibing. He told Elite Daily on the red carpet that he also wished that fans got to see his friend's romance really unfold, even more so than his dates with Bliss.
"I remember sitting there in Mexico, miserable, watching Kwame and Chelsea jumping up and down," Zack said. "They just skipped hanging out with everybody so they could stay back in the cabanas with each other...the chemistry was real," he added. Bliss agreed, interjecting that Kwame and Chelsea "knew how to have fun" with each other. Even if she wasn't in Mexico with them all, she seemed to speak from her experience with the couple once back in Seattle.
Kwame also said on the red carpet that he understood how editing worked to make it seem like he might not be one hundred percent invested in his relationship with Chelsea. "If Zack got to see it, I wish the whole world got to see it," he said. "I wish more of Mexico was shown. It was my first time seeing this incredible angel," Kwane added.
"There's a lot of laughing, a lot of dancing, a lot of talking, a lot of reciprocity," Chelsea said.
"We obviously have really, really difficult conversations, but that's what you have to do while going through this experience. ....We both have in-depth responses to each other, but I do feel like I didn't see any of mine! So it definitely lent to that narrative that I didn't care or was not as invested," Kwame said.
Chelsea chimed in, defending Kwame's seemingly indifferent response to their relationship. "Anyone that watches Love Is Blind understands that the editing is brilliant. But I'm a speech pathologist, I wouldn't have married this man if all he did was chuckle and laugh, I'm a words girl, it's important to me," Chelsea said. "[The editing was] unfortunate, it's not fair to me or my partner," she added.
Additional reporting by Rachel Chapman