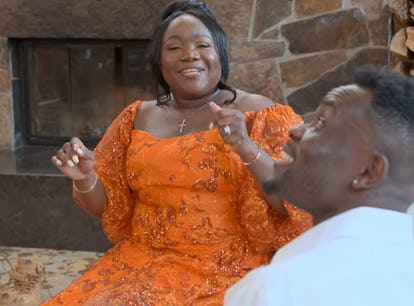 Kwame's Sister Was The Saving Grace Of That Awk Love Is Blind Wedding
Netflix
Things are always incredibly tense when it gets to the wedding day on Love Is Blind, and that was especially true for Kwame and Chelsea in Season 4. The couple didn't exactly seem like a perfect match after they left the dating pods, and as their big day approached, their fights became more frequent. Thankfully, one person swooped in at the last minute to make sure their nuptials weren't too awkward. Kwame's sister Barbara was easily the best part of his Love Is Blind Season 4 wedding, and helped bring some heart, humor, and reassurance to her brother's anxiety-inducing final decision.
Spoiler alert: This post discusses details in Episode 11 of Love Is Blind Season 4. While Kwame's nontraditional engagement strained his relationship with his mother, his siblings Barbara and Jerry were more than supportive of their brother's big step. The wedding was already starting off on an unsure foot thanks to Kwame and Chelsea's constant disagreements, but when Barbara arrived with a beaming smile and a stunning bright-orange gown, all that awkwardness immediately melted away. She lifted Kwame's spirits by joking around with him about their childhood and also reassured him that even though their mom didn't come to the wedding, she was still praying for him. And as any true big sister would, she roasted him when Kwame admitted he doesn't pray much anymore: "I always knew I would find a way for mom to cut you out the will!"
Barbara also shared a beautiful moment with her (maybe) soon-to-be sister-in-law, gifting Chelsea with a kente cloth purse. "This is really the women in our culture, they put this together," Barbara told an emotional Chelsea. "And it's the kente cloth, so you have a piece of Ghana with you."
As if that wasn't sweet enough, Barbara welcomed Chelsea into her family with open arms: "I am looking forward to just having a sister. I'm the only girl."
Then, when it finally came time for the moment of truth, Barbara stood in for her and Kwame's mother to walk her little brother down the aisle. "I can't be mom, but mom loves you," she told Kwame. And as she could see his nerves starting to get the better of him, Barbara knew just what to say to reassure her brother. "You're going to do great. You're going to be a good husband," she said. "Make us proud, OK?"
Kwame and Chelsea's love story may not have been perfect, but it definitely would have been much worse if Barbara wasn't at their wedding to help raise everyone's spirits. Fans will have to wait to see if her efforts paid off when the Love Is Blind Season 4 finale airs on Netflix on April 14.