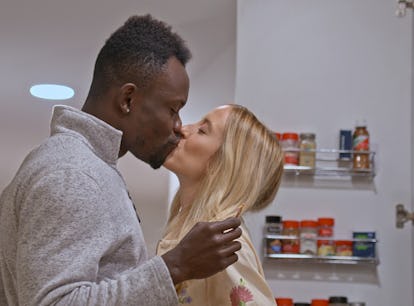 Chelsea Still Doesn't Follow Kwame On Insta After Love Is Blind
What's up with these two!?
Chelsea Griffin is shaping up to be a fan favorite on Season 4 of Netflix's Love is Blind though her social media behavior hints that she might not have found everlasting love on the show. Chelsea went into the season declaring that she was on the hunt for a "charismatic, charming momma's boy" who can "match [her] energy." The queen of keeping it real, she's been applauded by viewers for calling out her love interest, Kwame Appiah, for his relationship with Micah Lussier. Even though the couple got engaged, after Kwame was getting too close for comfort with Micah in Mexico, it seems the messy love triangle could continue this season. No one can deny Chelsea and Kwame's sizzling chemistry now, but fans will have to continue watching to see if the couple can tie the knot. And if Instagram is any indication, it doesn't look good for these two lovebirds.
Love is Blind's Chelsea Griffin's Real Job
Outside of the pods, Chelsea is a pediatric speech-language pathologist. She revealed on her Instagram that she received her Masters of Science in Communication Sciences and Disorders in 2021. Outside of the show, Chelsea is interested in photography, traveling, and reading.
Love is Blind's Chelsea Griffin's Instagram
Chelsea posts semi-regularly on her Instagram and posts plenty of pictures of her friends and family. A self-proclaimed "dog mom," per her Insta bio, she also sometimes posts with her pup, Rocky. She also uses her platform to share empowering messages, such as "I will love the light for it shows me the way, yet I will endure the darkness for it shows me the stars" and, "Girls with dreams, become women with a vision."
While Chelsea does post on her social media accounts, she hasn't given any hints as to if she and Kwame are still together. She doesn't follow Kwame, but she does follow most of the other Love Is Blind contestants from this season and past ones, such as Deepti Vempati and other Netflix stars, like members of the cast of The Ultimatum. Kwame is also really active on social media, but doesn't follow Chelsea, either, so they're either very good at keeping a secret or something is up.
Love is Blind's Chelsea Griffin's Age
Chelsea had just turned 31 when season 4 began filming last spring. She will turn 32 on April 27, shortly after the season finale, making her a Taurus.
New episodes of Love is Blind Season 4 drop Friday April 7 and 14 on Netflix.