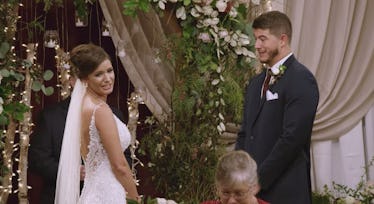 The 'Love Is Blind' Contestants' Wedding Body Language Speaks Volumes
Netflix/Love Is Blind
Caution: Spoilers ahead for the final two episodes of Love Is Blind. One of the most cringeworthy parts of watching the Love Is Blind weddings was the contestants' body language. Let's see, how can I put this lightly? It was, um... a lot! Barnett's nerves, Kenny's terror, and Lauren's joy were splashed all over their faces. But beyond those obvious emotions, each bride and groom gave off tiny clues into how they were feeling with their limbs and torsos, too. Traci Brown, body language expert and author of Persuasion Point: Body Language and Speech for Influence, breaks all that down for Elite Daily.
While you probably couldn't tear your eyes away from Giannina's runaway bride moment, complete with a slide through the mud, Brown kept a close watch on these couples' presence at the altar. She analyzed each person's body language on their own, plus looked at how each couple interacts as a whole. Her findings are fairly dramatic (she actually called one person's body language a "disaster" — yikes), but they also contain key insight into the fate of each relationship.
Read along and prepare to understand the Love Is Blind squad like you've never understood them before.