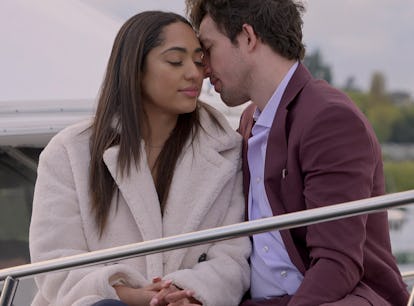 Here's The Deal With Zack & Bliss' Relationship After That Love Is Blind Finale
These two love to flip the script on us.
Netflix
Spoiler alert: This post contains details from the Love Is Blind Season 4 finale.
Zack and Bliss were the true wildcard couple of Love Is Blind Season 4. They got off to one of the worst starts in the show's history when Zack proposed to someone else, but somehow, they managed to reunite and actually build a pretty solid relationship in just a matter of days. And in what was the most surprising moment of the finale, Zack and Bliss actually agreed to get married. But was it just for the cameras? Here's what we know about whether Zack and Bliss are still together after Love Is Blind.
It's really difficult to predict what Zack and Bliss are going to do next. Despite Zack initially getting engaged to Irina, Bliss took him back when he shared his feelings for her in the real world. Because of their late start and fumbled beginning, it didn't seem like the two would make it to the altar, especially after Bliss' dad expressed his disapproval. But against all odds, Zack and Bliss got married in the finale. Like the rest of the contestants, they had to hide their relationship status on social media until the season aired in full, and Zack and Bliss' Instagrams are particularly tricky to investigate.
There are a couple of things about Bliss' recent posts that suggest she and Zack are indeed still married. For one, she shared a lot of pics from a vacation in Cabo San Lucas back in February, but notably, she was the only one in the photos. Since Bliss never got to go to Mexico with Zack, some fans are guessing this trip was Zack's way of making up for his initial mistake.
Commenters also thought they saw evidence of an edited-out ring on Bliss' ring finger in some of her Cabo photos, but that may verge a bit to far on the conspiracy theory side of things.
As for Zack, he didn't post once between the time of filming and the show airing. His recent posts are all promoting Love Is Blind, and they don't mention Bliss. His appearance has also majorly changed from the show. When he debuted his new unshaven, shaggy-haired look on IG, commenters wondered if it was a "break-up look."
Yeah, Zack and Bliss are kind of sending mixed messages about where their relationship is at now. Hopefully they will clear things up for fans very soon, though.