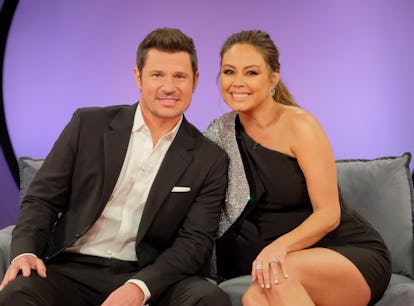 Yes, There's An Actual Petition To Remove Nick & Vanessa Lachey As Love Is Blind Hosts
The fans are out for blood.
Netflix
The Love Is Blind Season 4 reunion delivered fiery drama in ways that viewers were not expecting. Fans tuned in to see the contestants reveal all the unseen secrets, but disappointing technical difficulties and questionable hosting choices are what really stole the spotlight. After the special aired on April 17, social media was flooded with posts calling out Nick and (more specifically) Vanessa Lachey for presumed favoritism and distasteful questions. Now, there's an actual petition to remove Nick and Vanessa as Love Is Blind hosts that already has tens of thousands of signatures.
The Change.org petition to Netflix was posted the day of the Season 4 reunion, with a detailed summary of why the creator believes Love Is Blind is "being held back from its full potential with cringy Nick and Vanessa Lachey." The reasons listed include Nick's shady remark about ex-wife Jessica Simpson in Season 3's reunion ("second marriages are always the best"), Vanessa being "domineering of every reunion," and the couple in general "targeting certain contestants rather than treating them equally."
The petition, which has garnered over 24,000 signatures as of April 19, illustrates the large fan backlash to Nick and Vanessa's handling of Season 4's reunion. Both fans and contestants called Vanessa out for showing a personal bias in harshly interrogating certain people and not others. Their names became a trending topic on Twitter for all the wrong reasons, as multiple fans called for the Lacheys to exit Love Is Blind.
Specifically, several of Vanessa's choices during the reunion set fans off. First, she grilled Paul about his reason for not marrying Micah, even though it was obvious to viewers that the couple did not belong together. She also let Jackelina off the hook for her part in her breakup with Marshall, and instead surprised everyone by going in on Marshall about much smaller and more insignificant details.
But the biggest issue of all was Vanessa's peculiar obsession with each couple's personal reproductive choices. Throughout the reunion, she continually brought up how much she wanted to see "the first Love Is Blind baby," culminating in her final question to each married couple being about whether they were trying for a child or had plans to have a baby in the near future. The prying was obviously invasive, as well as insensitive to anyone who may have reproductive issues or simply chooses not to have children.
As the petition proves, Love Is Blind fans are not planning to move on from this perceived issue anytime soon.